Browse:
Home
/
how to write faster

Successful freelancers share how they squeeze the most from the work day to maximize writing income.

Deadlines piling up, or maybe you just need to make time to do a blog post every day? Here's how to speed up your writing.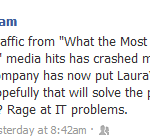 A Pulitzer prize winner, nationally syndicated columnist, cookbook author, famous parenting blogger and other writers share their morning routines.
This assignment workflow guide charts every step of the writing process, from getting a "Yes, we love the idea, please do it!" to depositing a big, fat check.
To do great writing, read great writing. Here's the great writing I've been reading this week: It's been five days since I got back from vacation and between blogging here and at SecondAct, and doing umpteen loads of laundry (read this post if you want to know why), I've been catching up on what's happening […]
WordCount is taking a break this week while I'm on vacation, so I'm rerunning some of my most popular posts. Today's topic: Tips For Improving Your Writing 25 tips for better freelance writing – Never go into an interview cold. Don't be afraid to ask dumb questions. Show, don't tell. Use active verbs. Read the […]