HHS Secrectary Sebelius is encouraging people to enroll in health exchanges by 3/31 deadline, including freelancers who may have done without in the past.

Joining an ad network is one way bloggers earn money. Here's the 411 on BlogHer Publishing Network, run by the popular women's blog community.

This post is part of a BlogHer series that has bloggers from different walks of life sharing the career advice they'd give their younger selves.
Becoming part of an online ad network is one way to earn money blogging. Here's the scoop the popular women's blog community as well as a few others.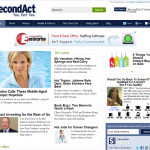 At the invitation of SecondAct.com, bloggers in the #blog2012 challenge are using today's posts to write about their own second acts. Here's mine.
Are you ready for a change? If you've been thinking of jumping out of your current occupation and into a new one – like freelancing – here's a little inspiration. From December to February, I helped produce Reinvent Yourself, a series on career reinvention for BlogHer, the women's blog network (Editor's Note: I'm also a […]

As freelance editor of this career reinvention series, I'm wrangling bloggers, editing and using social media to promote our work.

Pardon a bit of shameless self promotion, but I'm delighted to report that BlogHer is running a WordCount post on its front page today. The post is Insider Interview Tips from Top Writers. BlogHer is an online community for and about women and women's issues. The company runs a separate ad network on approximately 2,500 […]
You want to start a blog but don't know what to blog about. When picking a topic, consider what you know, what you want to know, what's popular and what's needed.

WordCount has joined the BlogHer ad network. It's time to turn my two-year-old enterprise from a nonprofit to a money-making venture.