(This post was updated on April 24, April 27 and April 29 to reflect the addition of new sponsors.)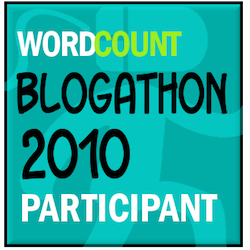 Feeling lucky?
You could be one of the big winners in this year's WordCount Blogathon.
To mark the event's 3rd anniversary, I've lined up some fabulous giveaways for writers who commit to blogging the entire month of May.
Thanks to some awesome sponsors, more than $1,200 in prizes will be awarded to randomly selected participants at the end of the WordCount Blogathon:
NEW! (Added April 29) KnowledgeWebb subscription – 1 year subscription to KnowledgeWebb, affordable training for everyone and anyone working in content. Their motto: Don't sweat the tech! Value: $129.
NEW! (Added April 27) Blog/Website SEO Review – Custom analysis of your blog or website from Internet marketing specialist

Spork Marketing

. Spork's Jason Lancaster will analyze more than 50 aspects of your website or blog's design and structure to create a report on what's working, what's not and suggestions for 10 easy fixes to make it more search engine friendly. The winner must agree to publish a post about the review process, either on their site or on Spork Marketing's blog. Value: $500

One admission to TV and film blogger Jane Boursaw's popular class, Blogging for Passion and Profit, Premium level. Value: $250.
A one-hour "Get Unstuck" laser coaching session with Marla Beck, life coach for writers, good for writers looking to take on more meaningful assignments, overcome writer's block. Value: $185.
One hour of resume writing service from Danielle Buffardi of PenPoint Editorial Services to overhaul your old resume or start a new one from scratch. Value: $125.
Hot off the presses, The Urban Muse blogger Susan Johnston's new e-book, The Urban Muse Guide to Online Writing Markets, with information on 40 online writing markets that buy freelance articles, as well as samples of successful query emails and a glossary of writing and web terms.
A copy of Simple Task Timer, time tracking software writers can also use to schedule projects, produce productivity reports and generate invoices. Value: $49.95.
One hour of writing, editing or business coaching from WordCount Editorial Services (that's me). Value: $125.
Starbucks gift card – Preferred fuel for bloggers! Value: $25.
The Associated Press Stylebook 2009 – New, paperback edition, shipped directly to you from Amazon.com. Value: $12.89.
To be eligible, all you have to do is sign up for the blogathon and blog all 31 days. Winners will be randomly drawn and announced on June 1 during the real-time WordCount Blogathon wrap party – watch here for more details.
To sign up or learn more about the blogathon go to the official WordCount Blogathon page.
In addition to a chance to win fabulous prizes, all WordCount participants receive a free badge to place on their blog to let the world know they're part of this wonderful group – that's it at the beginning of this post.
A big shout out to WordCount Blogathon sponsors for making this possible:
If you're a company that makes products or services for writers and would be interested in sponsoring the WordCount Blogathon, please contact me here.