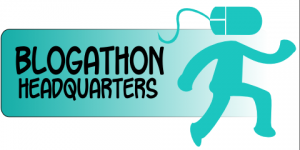 It's here, the moment you've all been waiting for, the 3rd annual WordCount Blogathon.
If you're new to these parts and wondering 'What the heck is a blogathon?' let me enlighten you. The blogathon is group commitment by a steadfast band of writers from all over to blog every day during the month of May. The fun starts Saturday, May 1 and doesn't stop until we're all blogged out on Monday, May 31.
If you've participated in the blogathon before, welcome back.
This year we're kicking things up a notch – several actually. In hopes of improving your blogathon experience, we've added:
A blogathon registration form – Fill it out to put yourself on a blogathon mailing list for weekly updates, pep talks and announcements. You'll find the registration form live now on a special WordCount Blogathon page on this site. By registering you'll also get the…
Official blogathon participant badge – …designed by my main man Ron Doyle, the wiz behind the redesign of this blog, my business cards, letterhead and Twitter background page. Display it on your blog to tell the universe you're a blogging fiend, and proud of it.
Daily themes – Stuck on what to write? This year the official blogathon headquarters staff (i.e. yours truly) has come up with a cheat sheet of sorts, a slate of weekly topics you can post about, thereby offloading some of the pressure to come up with original material every single day. Watch for more information on this before the blogathon gets under way.
Giveaways – Sorry, you'll have to stay tuned for future announcements about the fantastic writing-related products and services I'll be giving away during this year's event!
We're also bringing back some oldies but goodies from last year, including an official guest-post exchange day, where you pick a blogging partner and agree to trade posts on the appointed day. We'll also share what we learned during a blogathon wrap party on Twitter the day after the blogathon is over, which is Tuesday, June 1.
Speaking of Twitter, you can follow Blogathon-related activity using the hashtag #Blog2010
Approximately 45 writers participated in last year's blogathon. This year my goal is to coax at least 100 writers into joining. Think we can do it?
For more information or to sign up for this year's blogathon, go to the WordCount Blogathon page.
Whether you're taking the plunge, or just thinking about it, sign up for the WordCount RSS feed to see all upcoming blogathon-related announcements.