Browse:
Home
/
On Writing Well

Zinsser's advice to write tight and bright hasn't aged. Read more of my favorite tips from this widely-loved style manual.

When it comes to covering science and technology, the well-known writing coach says to use plain language, proceed in logical order, and above all, be yourself.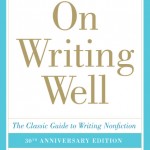 When it comes to writing advice books, I stick to classics like Strunk and White, AP Stylebook, and On Writing Well. Here's the entire list.