[EDITOR'S NOTE: During the FLX/WordCount Blogathon I get asked a lot of questions about blogging, and by far the most common is: Where can I find photos to illustrate my blog posts? When you're under the gun to get a post published, it's tempting to grab a great-looking image from someone else's website or blog and reuse it. Tempting and potentially illegal if the image is copyrighted. Why chance it when coming up with images on your own is so easy. All it takes is a little advance planning and some imagination. In this guest post, travel blogger Ellen Girardeau Kempler explains her favorite sources of stock photos for blog posts. Next week, I'll share some of my own tips. Happy blogging! — Michelle]
* * *
It can be tough to find decent images to illustrate blog posts that don't cost anything — tough, but not impossible.
It's not hard to find bad images. Pictures that scream "stock photo" are all-too common on corporate blogs – generic views of students walking across nondescript college campuses, kids riding bikes through Anytown, USA, or couples waving from nameless cruise ships.
You can also throw ethics to the wind and steal other people's copyrighted work – though if you get caught, you could get take-down requests, nasty letters from lawyers, or even sued. Such a situation last year led Facebook to ban a website called Cool Hunter for alleged copyright infringement.
To avoid such hazards, some bloggers stick with popular image search tools, and then end up with photos that have been used many times over on other blogs. Some skirt the issue by running posts without images, losing out on the graphic advantages and promotional opportunities that images provide.
But it doesn't have to be that way.
Where to Find Free Images Online
Here are five places to find free images that pack your posts with visual punch:
1. Wikimedia Commons
By far the largest trove of all kinds of public images is Wikimedia Commons, run by the same San Francisco nonprofit that operates Wikipedia, Wikipedia quotes and Wikipedia Travel. The site's more than 17.6 million files include professional quality photos to archival material, diagrams, charts, maps, artwork, video clips and gifs.
Millions of individual creators all over the world upload and license individual images under several types of Creative Commons licenses. Because of the volume of material, finding an image that's a good fit can take research, guessing and time.
I usually start by reading about my subject on Wikipedia. If there are pictures or other media associated with the entry, you'll see a blue and red Wikimedia logo on the bottom right corner of the page. Click on the logo to navigate to a Wikimedia page where you can browse the image files.
The more creative you are with search terms, the more offbeat the images you'll find. For a post about star parties, I used Wikipedia to look up amateur astronomy, telescopes and Halley's Comet. The searches yielded photos of people looking through a telescope, Bayeux Tapestry detail showing a comet, historic shot of two men looking through a telescope on a New York sidewalk, view of Los Angeles at night from Griffith Observatory, and picture of the full moon emerging through clouds.
Another result was an article about President Obama hosting a star party on the White House lawn. I searched Google and discovered a photo of the president peering through a telescope. I used the phrase to search on Wikimedia and was thrilled to find the file, which you can see here.
On Wikimedia or anywhere else, once you find an image you want to use, carefully read and follow the terms of the license. It should also be noted that Wikimedia images aren't available for commercial use, which means you can't use them for something that you're planning to sell.
2. Websites
Many company, nonprofit or association websites have media pages that include libraries of free photos or graphics in a variety of sizes that you can download and use on a blog, website or Facebook page.
Be sure to follow any stated requirements for including a caption or photo credit, and link back to the source. Here's an example of a photo that I downloaded from Berlin's Circus Hotel to use on the Gold Boat Journeys Facebook page: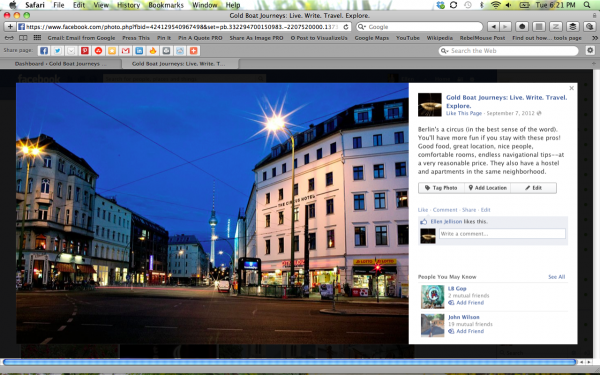 3. Embedded Media
Another option for illustrating a post is sharing embedded screen shot of a tweet, video or audio clip. Adding these types of images is easier than it sounds. From YouTube, SoundCloud or Twitter, find the "Embed" button and click on it. It will generate HTML code that you can paste into your blog post to show a video or tweet.
Here's a screenshot showing how a YouTube clip from The Shining I used to livened up a post on balance: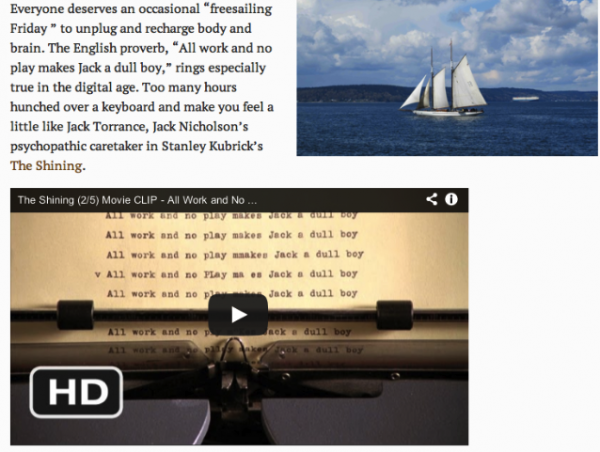 4. Text-based Graphics You can also create and embed word clouds, quote and infographics.
In an event invitation, I used artwork from The Graphics Fairy, my favorite source of free vintage images:

5. Personal Sources and Screenshots
Do you collect vintage bookplates, stamps, matchbooks or other printed material? If any of them are out of print, you can photograph them to use in your blog.
Don't Go There
If your search for an image leads you to something that is posted on a copyrighted website, watermarked by the photographer or artist, not downloadable (because the source has disabled right-click and copy function) or is only available as a thumbnail or low resolution it's a clear signal not to copy it, or to track down the owner and ask permission first. Some images you find online don't have written explanations of what rights are available. When in doubt, don't download. If you take a chance and use it anyway, link back to the source and provide full credit. But why risk it? Once you know where to look, it's easy to find free media for your blog posts or website.
Ellen Girardeau Kempler is founder and chief navigator of Laguna Beach-based Gold Boat Journeys (Live Write Travel Explore). Her Ship's Log (aka slog) offers inspiration, provisions and navigation for the creative voyage. A writer, editor and communications consultant, Kempler specializes in travel planning, research, visual marketing and content development. Follow her on Twitter @goodnewmuse and @littlegoldboat.
Where to you find free images for blog posts?