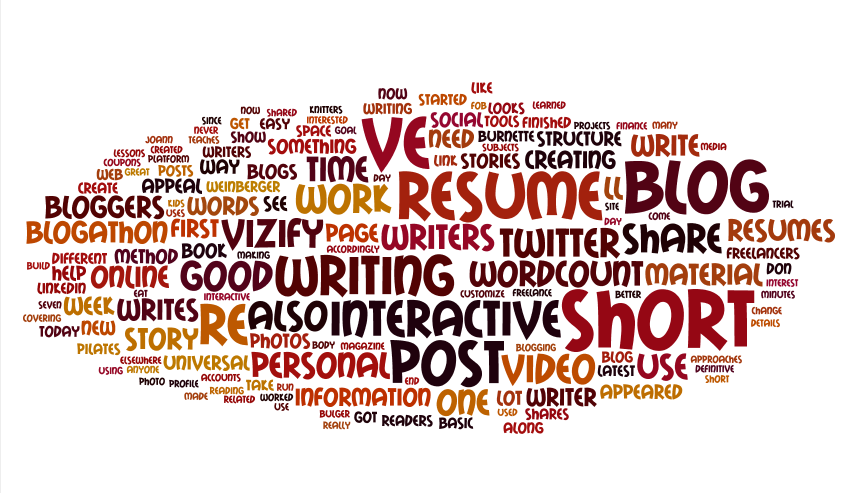 They say a picture is worth a thousand words.
In this case, the picture that's running with this post is made up of words – not exactly a thousand, but all the words that I use the most on this blog, such as "blog," "writes," "story" and "post."
The image is called a word cloud, a visual representation of information from this website. If you create a word cloud from your blog, the more you use a word or phrase on your blog, the bigger it appears in the word cloud.
Word clouds are also quick, easy, fun ways to create images for posts — great for when you're in a pinch and can't come up with another image to illustrate what you're writing about.
Today's the last theme day in the 2013 Blogathon, and all of the bloggers in the month-long blogging challenge are making word clouds. If you want to see what some of these bloggers did, visit the WordCount Facebook page, find the status update that says ** PLEASE SHARE LINKS TO YOUR JUNE 30 POSTS HERE ** and click on the links. Fun!
More on Word Clouds
To find out more about word clouds, read the Oxford University Press' definition of a word cloud.
You can create word clouds on sites such as Wordle, Tagxedo, WordItOut, and TagCrowd.
To upload a word cloud as an image on your blog, pick a word cloud site, create a word cloud, and then follow the instructions on the site to save the image. If you use Wordle, here are some additional instructions: how to use Wordle to create a word cloud.
Most word cloud programs offer the option of creating a word cloud from a specific URL (like your blog's URL) or from a random string of words that you input into the word cloud generator. Many site also let you tweak the colors, fonts, orientation (horizontal or vertical) and shape to suit your taste or your blog's layout.
If you create a word cloud, share a link here so we can see your efforts.