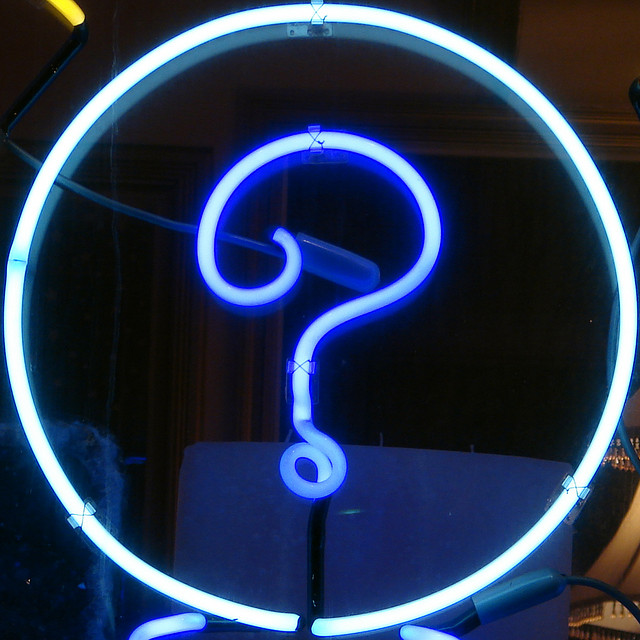 Dear WordCount is a weekly advice column answering your questions about writing, blogging and running a freelance business. During the 2013 WordCount Blogathon, Dear WordCount will be answering questions about the Blogathon, and blogging mechanics and etiquette. Send questions to [email protected].
Adding a Badge to a Blog
Dear WordCount:
Can anyone step me through the process of adding a Blogathon badge to my blog? I mean, tell me the steps as if I were 5 years old? I use WordPress, but it's an old version, I don't know HTML, and I need handholding. I didn't bother last year, but I'd like to have a badge this year if possible. – J.N.R.
Dear J.N.R.:
We get asked this question every year. Adding the Blogathon badge or any other badge to a blog seems more intimidating than it is. Here's a step-by-step explanation for adding the badge code to a WordPress blog:
Copy one of the codes for the badge size you want to put on your page.
Go to your blog's Dashboard.
Go to Appearance.
Go to Widgets. Now you will see two columns. The left side lists the widgets available for your blog and the right column called Sidebars shows all the widgets you have activated on your site.
Find the Text widget and drag it to the Sidebars column. If you want the badge code to appear at the top of the sidebar column, drop it on top of the other widgets shown in that column. If you want it to appear lower, drop it there.
Click on that Text widget to open it.
Paste the badge code into the blank space.
Click Save.
Return to the Dashboard. Click Preview to see how it looks, or open a new browser tab or window, open your blog and see how it looks. If the badge is too big, copy a smaller image code and follow the same steps to paste it into the text widget instead.
Eligibility for Blogathon Raffle Prizes
Dear WordCount:
This is my first Blogathon. When I create a post, do I have to put a "Blogathon" tag on it for it to count toward the end-of-the-month prize drawing? — D.B.
Dear D.B.:
Congratulations on your first Blogathon, hope you're enjoying it. There's nothing you need to do to be eligible for the Blogathon prize drawing except write a post every day. That's it!
Here's how we pick winners: At the end of the month, Jan Udlock, the Blogathon manager, and I put the names of every blogger who signed up into Random.com's List Randomizer, which mixes them up and spits out a list — a 21st century way to draw names out of a hat. We'll draw the first name and then review their blog to see if they posted all 30 days. We do this part of the process the old-fashioned way and manually scroll through all the posts that have appeared during the month. If that blogger wrote every day, they win a prize. If they didn't, we go on to the next name. The number of winners depends on how many prizes we collect. Here's the complete list of 2013 Blogathon prizes.
We'll announce all the winners at the Blogathon wrap party on Monday, July 1, at 10 a.m. PT. Use #blog2013 to join the chat. Prizes are announced at the end of the hour, and I'll also post a list here after the chat.
Aside from that, I strongly encourage you to put the badge on the front page of your blog or website so people know you're part of the event. You could tag your posts with "blogathon" or "blogging challenge" for convenience sake, to make it easier if you want to search for them in the future.
Guest Post Rules
Dear WordCount:
The guest post exchange is coming up on June 12. Can I swap posts with someone who is not doing the Blogathon, or is it only Blogathon participants who can do guest blogs for eachother? Just was wondering. – E.H.
Dear E.H.:
For the guest post exchange, I encourage bloggers to swap with someone else in the Blogathon as a way to get to know people. But it's totally up to you. You could do the June 12 guest post exchange with another Blogathon blogger, and a second guest post swap with someone else. If you're worried about finding someone to swap with use the WordCount Facebook page, that's what it's for. Post a message explaining what you write about and that you're looking for a guest post partner. See what happens.
Want to know more about inding, writing and running guest posts? Read this: The WordCount guide to guest post basics.
Getting Blog Comments
Dear WordCount:
How many posts by Blogathon bloggers are we supposed to comment on for a day? – Curious
Dear Curious:
There's no requirement that bloggers have to comment on each other's blogs.  That's totally up to you — besides, how would we regulate or count that?
However, one reason we run the Blogathon the way we do – with a Facebook page, weekly newsletters and lots of interaction, is so bloggers can meet and learn from each other. So while it's not required, I'd strongly encourage you to visit as many blogs as you can, and leave comments when you do. Especially if you're a new blogger, it's a great way to get to know other people you could learn from, exchange guest posts with, and maybe eventually meet if you live in the same city or at a blogging conference.
Read more:
[Flickr photo by Xurble]