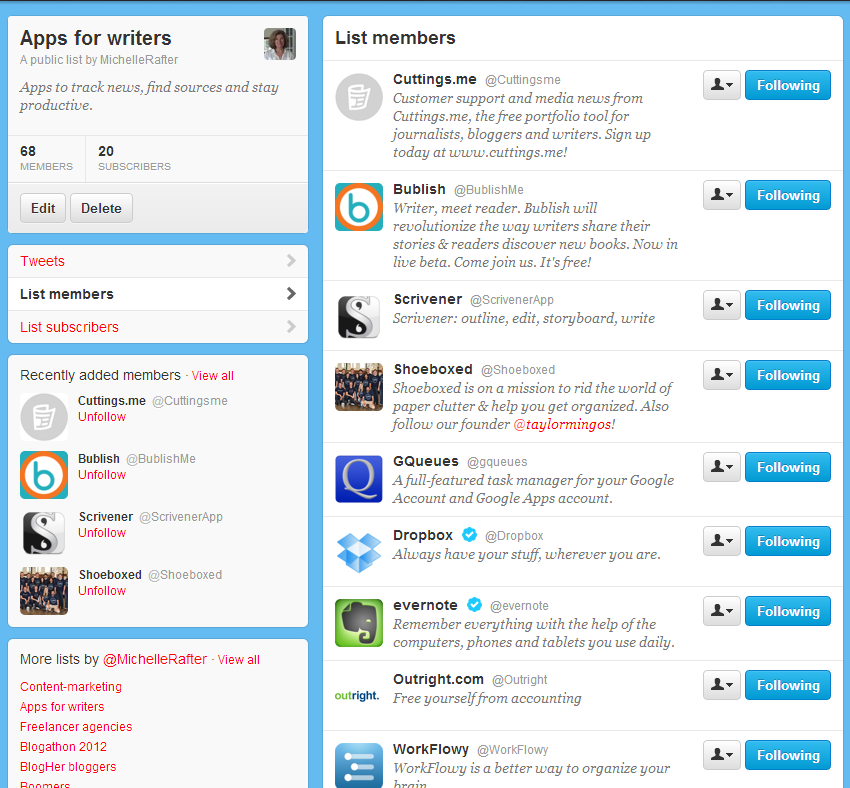 I've been squirreling away information on apps that writers could find helpful.
After adding to it for a couple months, the list is sufficiently long to make it public. You can see it here: Twitter here: Apps for Writers.
I use the word "apps" very loosely. Some of them are software programs that live online. Others are "apps" in the true sense of the word, in that they're programs you'd use on a smartphone, iPad or other mobile device.
The 65+ apps cover a lot of territory. You'll find:
Popular social media sites like LinkedIn and Twitter
Web-based file storage and sharing services such as DropBox, Box.net and Shoeboxed
Writer portfolio services such as Contently and Cuttings.me
Organizer apps such as Evernote and GQueues
Publishing apps such as Writer.ly, BookbyteDigital and Working Press
Sourcing apps to help you find sources for stories, including
Productivity apps like StayFocused so you don't spend all day on Facebook
I used Twitter to create the Apps for Writers list for a few reasons. I'm a long-time fan of Twitter lists (as you can see if you look at my Twitter profile). I wanted to make the apps list public so other writers could see and use it. Making it a public list on Twitter also means that Twitter users can subscribe to it. As of today, 20 people have subscribed to this list. If you subscribe,  tweets from the individuals or companies that manage the Twitter accounts for these apps will appear in your tweetstream.
I realize that there are a lot more than 60-something apps for writers out there. If you have suggestions for apps I should add, let me know by leaving a comment.
H(app)y writing!