Dear WordCount is a weekly advice column answering your questions about writing, blogging and running a freelance business. What do you want to know? Ask me at [email protected].
Dear WordCount:
Any tips on creating an About page? I've got one under construction and am looking for ideas on how to build a good one. Or at least a good basic one. — Joan
Dear Joan:
Great question. Every blog or website needs an "About" page, which is your chance to tell the world who you are and what the heck you're doing online.
An About page should:
Introduce readers to the person behind the blog or website
Include a photo or video, so people can see what you look like
Explain what people can expect to read or see on the site
Provide contact information in case someone wants to get in touch
Pretty simple stuff. And an About page can be pretty simple – or fun, funny or mysterious. Really, an About page can be just about anything you want it to be as long as it does what it's supposed to do.
The only other hard and fast rule for About pages has to do with placement. Make yours easy to see. Add it in the main navigation menu on the front page of your website. You can call it many different things: "About Me," "About (Your Blog's Name Here)" or "Everything You Wanted to Know About (Your Name Here)" all work.
Examples of About Pages
Here are examples of different types of About pages:
1. Straightforward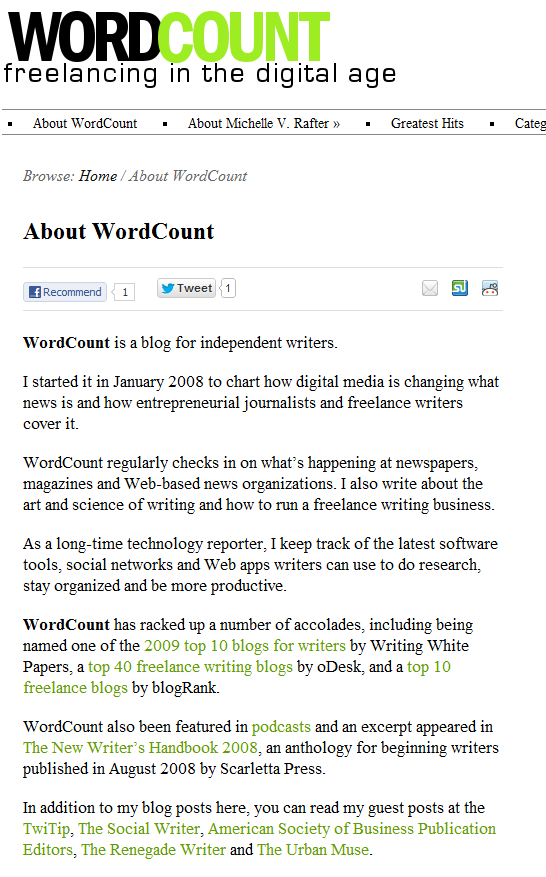 The About WordCount page as an example of  a standard About page. It's matter-of-fact, but that's OK since it matches the straight-news tone I use for most of the writing I do on the blog. It covers the bases: who I am, what the blog covers and how to get in touch with me (you'll have to trust me on that one, my email address is lower on the page).
2. Anonymous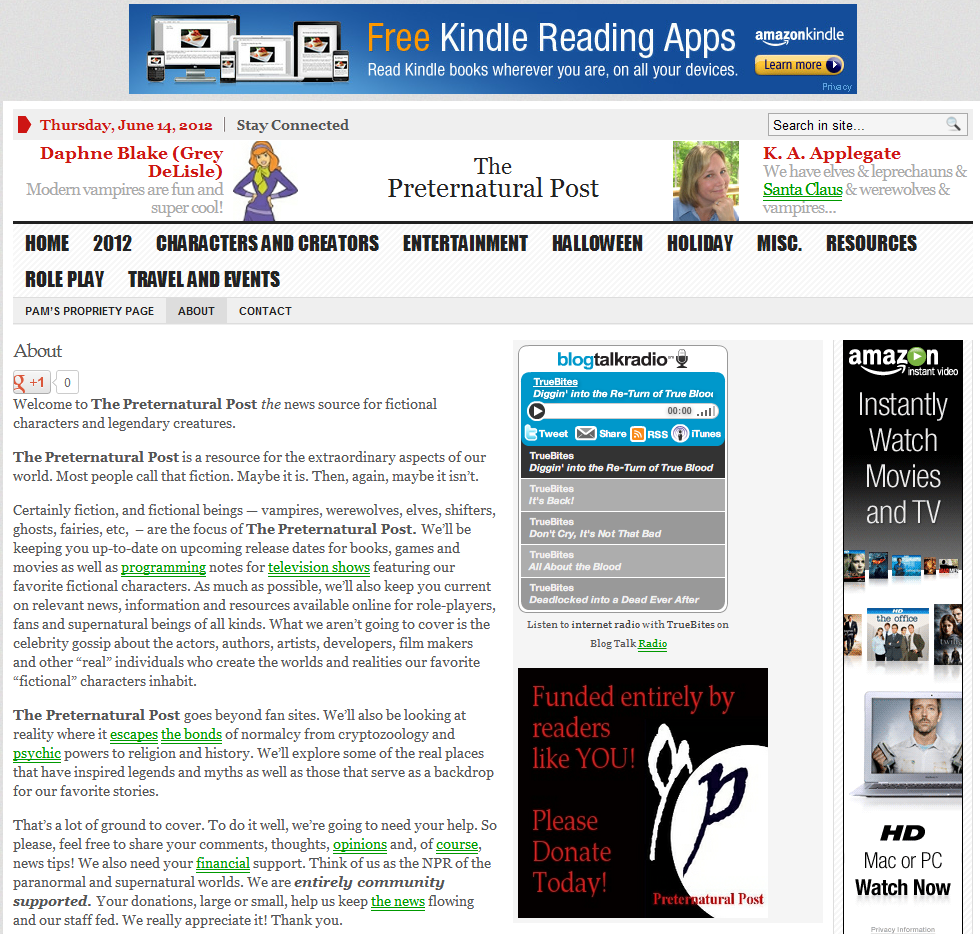 Some people prefer not to reveal their identities on an About page. Maybe they want to be anonymous because they're blogging about personal matters they don't want family or an employer to know about. Others, like the author of The Preternatural Post, are blogging role players who write posts as or about fictional character and prefer to be known as that individual, not themselves. That's their perogative. But as you can see, their About page to explain what they're doing, and what readers can expect to see on the site.
3. Humorous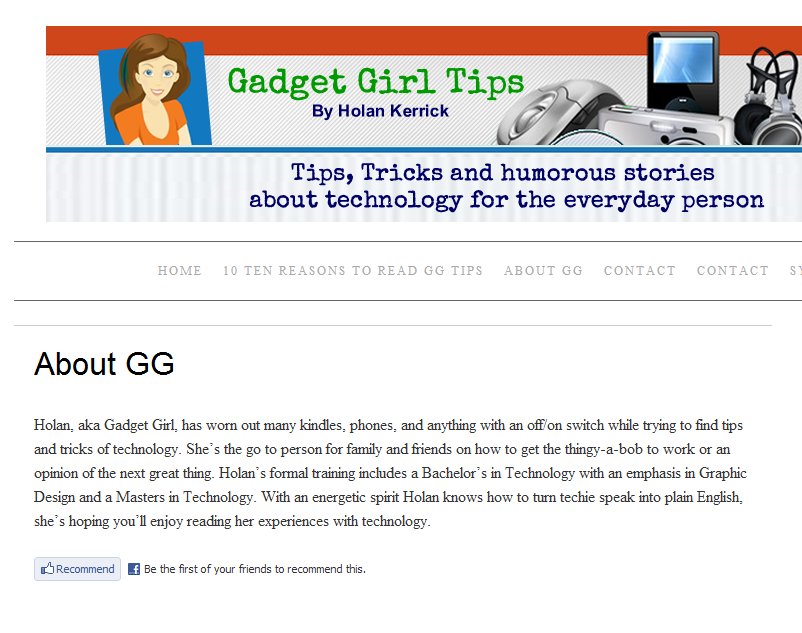 If your blog is funny, your About page should be too. Gadget Girl Tips is the online home of syndicated tech columnist Holan Kerrick, who adds a splash of humor to her tricks for figuring out how to use smartphones, apps and other modern appliances. It's apparent from reading her About page that Kerrick has a humorous way with words. For another example, look at writer Gabryyl Pierce's About page, which explains the unusual spelling of her first name, and why she's so fabulous.
4. Promotional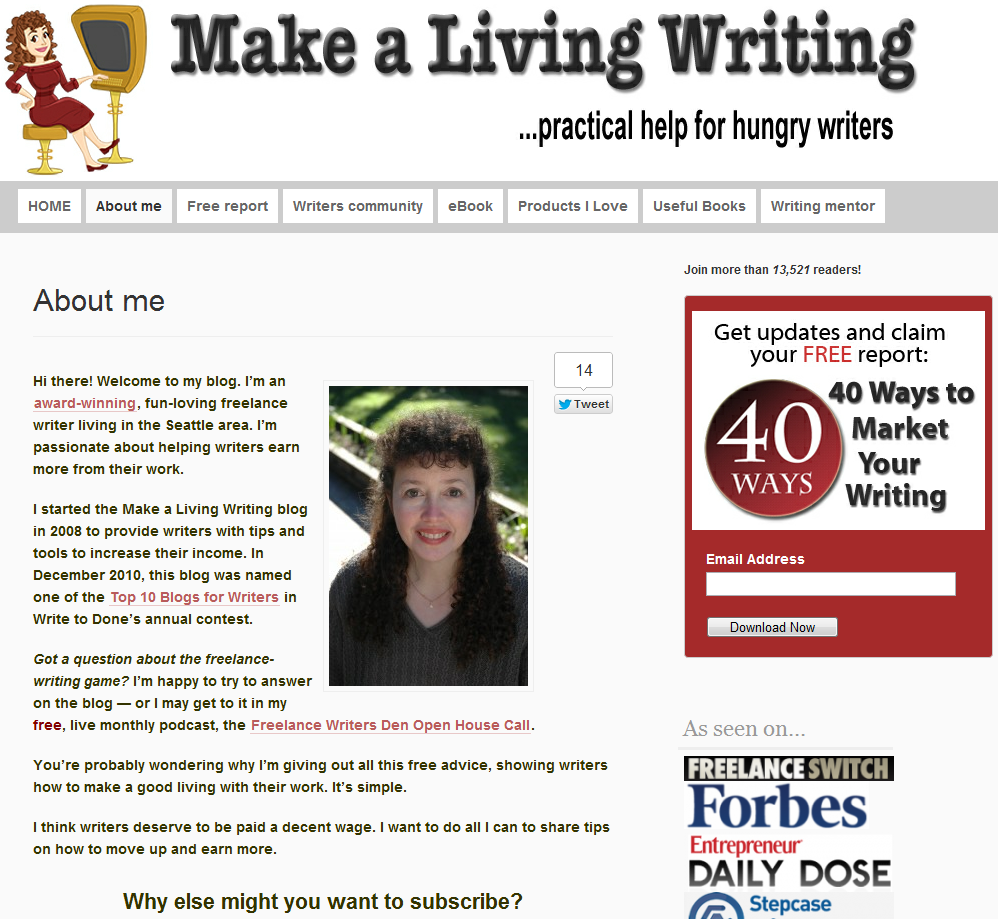 If you've created a website or blog to promote a new book or support your small business, your About page needs to sell, sell, sell. Carol Tice, a Seattle area freelance writer and book author, is a master of self promotion, and the About page of her Make a Living Writing blog shows it. It succinctly introduce her accomplishments and what the blog's about, and also offers readers the chance to get something for free if they sign up for updates.
5. Tonesetting

An About page can set readers' expectations, not just for what they'll read, but also what a website will look like – the color scheme, fonts and overall design. Brainpicking is writer and "interestingness hunter-gatherer" Maria Popova's blog about things she happens upon – books, drawings, quotes  and anything else she and her guest contributors find creative and inspiring. It's a pretty amorphous, esoteric mix, but the site's About page does a good job of explaining the underlying theme. It also alerts readers that while the subject matter is all over the place, the design is modern, coherent and attention grabbing.
What does your site's About page look like?