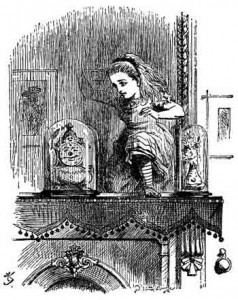 I've talked the talk.
Now it's time to walk the walk.
After preaching to everyone who visits here about the need to innovate during an era of unprecedented industry change and try new things, I've taken my own advice and accepted an assignment to do something I've never done before.
What will I be doing?
Here's a hint:
You know all those things I've written about editors – what makes a good one, how to tell a bad one when you see them, how to pitch, how to keep them updated on what you're doing?
Well, I'll be taking my own advice as, like Alice, I go through the looking glass and say goodbye freelance writer, hello freelance editor.
I'll save all the details for another day. But generally speaking, I'll be helping bring an online-based project from concept to launch, including mapping out timelines and editorial calendars, securing writers, lining up assignments, editing copy and working with what seems like an enormous team.
Am I excited? Of course.
Am I nervous? Of course.
I've worked as a business publication editor before, but it's been awhile. In fact, it was so long ago the publication I was responsible for came out once a month, in print and the Internet was still a twinkle in ARPANET's eye. In those days, marketing a publication consisted of printing extra copies to take to conventions and trade shows. This project will live online, and once we're live we'll let the world know through Twitter and Digg. Times, they are a changing indeed.
I'm not saying goodbye to writing altogether, especially not here. But it's going to feel good to exercise a few different creative muscles for the time being.
Wish me luck!