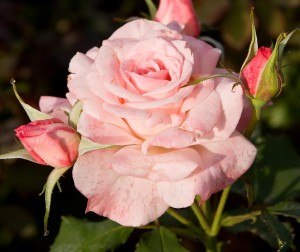 Shakespeare said a rose by any other any other name would smell as sweet.
But did Shakespeare call himself a freelance writer or a poet? A hired pen, or a playwright?
Not offense Shakespeare, but words matter. Today what writers call themselves matters more than ever because it sets the tone for how we perceive the value of what we do, and how others perceive us.
This hit home after two professional groups recently scrubbed the term "freelancer" in favor of the more business-like "entrepreneur" to describe their members who work independently.
Earlier this year, the Society of American Business Editors and Writers changed the name of its Freelance Committee to Entrepreneurial Committee, apparently to better reflect the times.
At the Online News Association annual conference earlier this month, officials of that professional group started preliminary work to offer webinars and other training for reporters who work independently, either by choice or because they've been laid off and are contemplating some kind of start up. The ONA's term of choice for describing these individuals: journalist entrepreneur, or entrepreneurial journalist.
I got the chance to briefly meet ONA Executive Director Jane McDonnell at the conference. When I identified myself as a freelance writer, I told her I was confused about the right thing to call myself these days, especially in light of all the freelancers who now do work for content aggregator sites such as Demand Studios and Helium.com. My blog even carries the tagline: "Freelancing in the Digital Age". Was it becoming detrimental to my career and my blog, I asked her, to be associated with those other freelancers, even if just by name? McDonnell agreed that today there's a certain negative connotation attached to the term "freelancer" compared with the more positive sounding "entrepreneur."
Today, many more people are working  freelance in all types of industries. But as McDonnell's comments show, at least in media circles the word is getting a bad rap, and a bad rep. It would be easy to blame it entirely on those freelancers writing for content aggregators, doing work that doesn't take the same kind of journalistic background or skill set that other types of writing require.
But there's more to it than that. The traditional way of running a freelance business – querying print publications and waiting for them to respond – is falling by the wayside, forcing writers like me to take a more business-like approach to our jobs. We're also exhorted to push our personal brand as a way to separate ourselves from the pack.
For 14 years, I've called myself a freelance writer and never had a problem with it. But given all that, maybe the time has come to throw out old terms and adopt new ones.
What do you think? Should a professional, ex-newspaper or magazine reporter or long-time independent writer adopt a different name for what they do?
Have you purposely avoided using the word "freelance" to describe yourself?
Do you believe what do you call yourself changes the way you look at what you do?
As I sort this out for myself, I'd love to hear what other writers have decided: are you a freelancer or journalist entrepreneur?