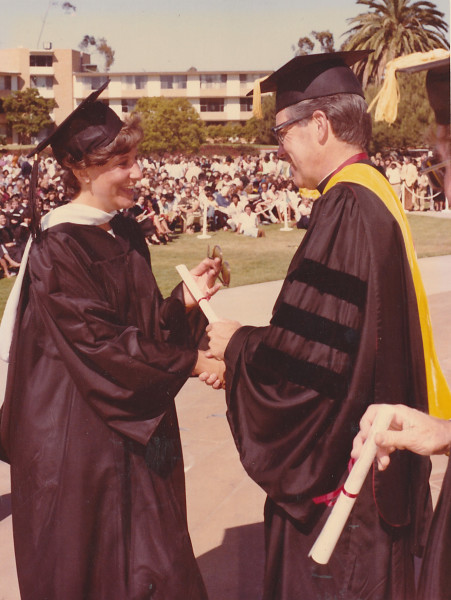 Congratulations college graduate!
If you're looking for a job, you might think that you learned everything you need to know in the classroom. Not true.
When I was in school, I did a lot of things outside of classes that helped my career. Looking back, I did a lot of things that were dumb at the time, but ended up helping my journalism and freelance careers.
Here are the dumb things I did in college that turned out to be good for my career:
1. Work for free.
I walked into the office of Loyola Marymount University's weekly student newspaper, the Los Angeles Loyolan, my first month on campus. I wasn't looking for a job as much as an extracurricular activity. My first story was a how-to piece on opening a checking account. My editor made me rewrite at least three times. I did it and everything else I wrote that year for free. I didn't care, it was fun. It took me another year or two to realize I'd discovered what I wanted to do for life.
What I learned: Find your passion, work hard enough and the money comes. By the time I was a sophomore, I was getting work-study money for the hours I spent at the paper. When I became editor my senior year my tuition was 100 percent paid for through a stipend the school paid to the paper's editor in chief.
2. Write with a hangover.
Freshman year I decided to hit an all-day St. Patrick's Day party for a few hours before heading to the newspaper office to file a story that was due. Bad idea. The party was a blast but by mid-afternoon when I got to the office and started writing about the campus ROTC program all I wanted to do take a nap.
What I learned: Hemingway and Fitzgerald may have been able to write inebriated. I can't. Work first and party when the work is done.
3. Give away free stuff.
I started schools as a film major, so sophomore year when the editor asked me to run the paper's entertainment section I was thrilled. Being the entertainment editor meant attending free screenings of new movies so I could write about them. I got free tickets and albums too. But there was no way I could go to or listen to everything. So I gave away most of what came in to other reviewers.
What I learned: Share the wealth, it'll help win friends, or in the case of student newspapers and other publications with small budgets, writers. And favors can lead to loyalty. Though I still wish I'd kept "The Wall" for myself.
4. Fake it.
Being entertainment editor was all I ever aspired to. But when junior year rolled around the paper needed a news editor. Would I do it? I said yes. I inherited a handful of reporters, some on work-study, some not, some good writers, some not, some whose entire college experience revolved around the newspaper office, some who'd go missing for weeks at a time. I'd been one of those reporters not long before. What did I know about motivating a mostly volunteer staff? I showed up, worked long hours, and did the best I could to muddle through.
What I learned: Nobody needs to know you don't know what you're doing. It helped that someone in a position of authority thought I was capable of managing other people, even if I couldn't see it in myself. It was the first time I experienced what it means to "Fake it 'til you make it," but not the last. Halfway through junior year I got tapped to be the paper's editor in chief and again found myself in a job I wasn't prepared for. It's happened many other times over the years. Knowing I've done it before has helped me every time.
5. Pull an all nighter.
I never pulled an all nighter to write a paper or study for an exam. But I did work through the night more than once to get the paper ready for the printer (this was before everything went digital). We distributed the Loyolan Monday afternoons, which meant the printer needed pages Monday morning. Once or twice we were so short-staffed over the weekend the few of us who were there worked all Saturday, Sunday and Sunday night to finish editing and typesetting articles and laying out pages. Another time I went to a concert on Sunday night before we were done and paid the price by having to go back into the office after to finish up.
What I learned: Plan ahead, and make sure you've got help so when things need to get done you don't have to all the work yourself. But be prepared to put in the hard work if all your careful planning falls apart.
6. Publish X-rated material.
While I was editor we were so flush with ad money we put out a few special issues close to twice the size of the usual weekly paper. One was a fiction issue with short stories, including a rather graphic piece with a lot of profanity. Our advisor either signed off on it or didn't see it, but when the issue came out, all hell broke lose. The paper's senior staff was called before the school's editorial review board and I almost lost my job.
What I learned: Not everyone will like what you write, and sometimes you have to compromise. In front of the school's editorial review board, we backed the artistic merits of the piece and explained our reasons for publishing it. I didn't lose my job, but the school started examining what we did more closely. They also closed the separate checking account we'd used to stash advertising income, another way to rein in some of our independence. Their actions might rankle some, but they were compromises I could live with.
7. Back a nobody.
A lot of students came through the newspaper office looking for an opportunity to contribute, not just writers but aspiring photographers, graphic designers and editorial cartoonists. Many were so-so. Some were just plain bad. When I was editor, a freshman came in who liked cartooning. His technique left a lot to be desired but he had a good sense of humor and was tapped into what was happening on campus. Despite the reservations of some of the editors I worked with, I used him on a regular basis.
What I learned: Take chances on people. That freshman was Mike Smith, who went on to become an award-winning editorial cartoonist at the Las Vegas Sun. Other writers I worked with became daily newspaper reporters, editors and authors.
8. Drop out of school.
When I was getting ready to graduate, the economy was bad. Instead of looking for a job, I stayed in school. I hadn't graduated with a journalism degree and figured I needed one if I wanted to work in the field. I got a scholarship to a graduate school of journalism. I lasted a year. I was tired of being in school, tired of being a starving student and ready to put the journalism skills I'd been developing to use in a real job.
What I learned: If you've got the basics, the degree doesn't matter as much as the drive. The summer after that first year of grad school I parlayed an internship with a magazine publisher into a full-time job, and never looked back. Years later I went back to grad school – as an adjunct professor.