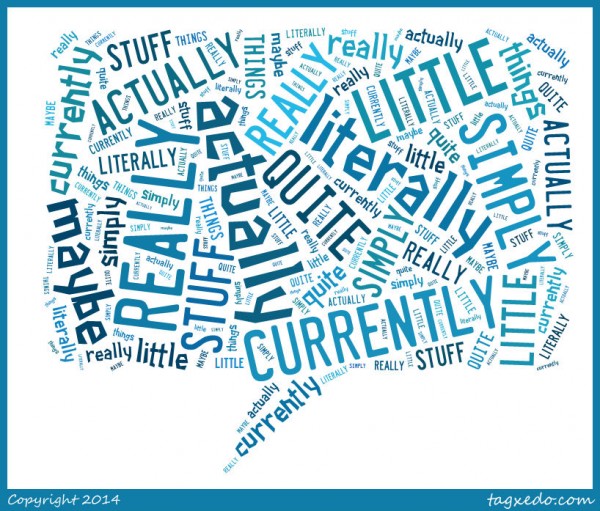 I'd be happy to never see the word "very" again in anything I read, edit or write.
Notice I didn't say I'd be very happy never to see "very" again?
How much is "very"? It's one of those ambiguous words that begs for further explanation.
I originally wrote the previous sentence: "It's one of those ambiguous words that just begs for further explanation."
But "just" is another one of those words. So out it went.
Bye, Bye Bad Words
Over the past six months I've edited tens of thousands of words of other writers' work. Short articles, longer articles, and even longer whitepapers.
Editing so much copy from many different writers gave me new appreciation for succinct, descriptive writing, and writers who are minimalists, packing a lot of maximum meaning into the fewest possible words.
Oops, did it again. Goodbye "a lot."
See how hard it is to wrestle these little rascals from your work?
My stint as a part-time editor and copyeditor for a startup underscored my aversion for filler words that don't do anything to a sentence but take up space.
Do yourself a favor. The next time you finish a query letter or story, before you submit it, channel your inner editor. Go over it again for filler. Deleting unnecessary words will make your work cleaner and more polished. Eliminating filler copy will make the words that remain shine.
Filler Words to Can From Your Copy
Here are my picks for filler words to exorcise from your writing:
a bit – as in "A bit of time passed before the library renovation was finished." It begs the question, how much is a bit – days, weeks, months? Be specific.
actually – Only works in movie titles.
currently – Not necessary to include to designate that something is ongoing, i.e., "The movie is currently playing at 6:45 and 9 p.m."
got – Such a boring verb. Surely you can think of something better.
here – Exactly where is here? In the following example, "here" is redundant if you've already established where the employees work: "Employees here say they love weekend cookouts and annual holiday parties but wish they received bigger yearly bonuses."
in order – Redundant filler that typically precedes the "to" form of a verb, as in "He walked around the building in order to enter through the back door."
just – Unless you're writing ad copy, just say no.
literally – If it's happening, you don't need this, it's redundant, as in "She literally cried as her husband walked off the aircraft carrier after his third and final deployment." If it's not happening you may be speaking figuratively, another reason you would not use this.
much
now – See "currently."
perhaps
pretty – Not as in this movie title, or this one, but as a description of proximity, i.e., "The band was pretty close to finishing their set when the fire started and the sprinklers turned on."
quite – When used as a synonym for "very," as in "The team received quite a large contingent of fans at the stadium gate after knocking off their cross-town rivals in the championship game." That sentence would be even better if the reporter counted the people in the crowd, which would allow her to rewrite the sentence to include the exact amount.
rather – See "quite."
really 
simply
there – An editor kicked a story back to me LAST MONTH for a lead that started with "There are…." See? I'm as guilty as the next person. "There" is a lazy way of starting a sentence. It doesn't take much thought and finesse to rework a "There are…" sentence into something that reads and sounds better – do it.
so – I use "so" in blog posts, where the the tone is more relaxed and casual, and the language more colloquial. Under those circumstances, I think it's okay. However, a couple go a long way, and I draw the line at using "so" in more traditional news and feature stories.
stuff – Be specific. What "stuff" are you talking about?
things – Ditto.
very – My biggest pet peeve.
What filler words would you prefer never to see again? Share by leaving a comment.