For the past few weeks, I've been sharing success stories of long-time bloggers in a series called Blog Stories. You can read other installments here, here and here.
Here are the stories of two more superstar bloggers:

Debbie Abrams Kaplan 
Blog: Frisco Kids
Description: Your guide to kid-friendly events and trips in the San Francisco Bay Area…and beyond.
Blog birthday: July 31, 2008.
WordPress, Blogger or something else: Blogger.
Blog design theme: I use one of Blogger's simple templates.
Advertising network: Adsense.
Total posts to date: 2,090.
Most popular post: Bay Area Birthday Party Locations, published in October, 2008. Parents of young kids are always searching out local information to make their kids' parties special. I created a separate blog page with additional party information, but this post continues to lead the pack.
Favorite posts: While the majority of my posts are about Bay Area activities, I do venture out as well. I did a series on Disney – both Disneyland and Disney World – that was well received and provides a lot of planning tips that save people time and make their trips better. I love going on factory tours, and wrote one up on Bay Area factory tours. Traveling brings me a lot of joy, and my recent trip to Toronto yielded some great photos, which are an excellent way to learn about another city.
Blogs you read regularly and why: Mostly I read my friends' blogs so I know what's happening in their lives. For my industry, I read blogs like WordCount (Editor's note: Thanks!) and Tech for Luddites, which help me with some of the technical aspects of blogging, writing and social media. I also write three other blogs, Jersey Kids, which is a sister site to Frisco Kids but focusing on the New Jersey/New York area; Letters from New Jersey, a humorous blog about our adventures in the East Coast; and Stupid Products, focusing on idiotic products and press releases.
Advice for beginning bloggers: Have a mission statement from the start, so you know what your parameters are when considering blog post ideas. It can take awhile to understand what your blog is about, and to get into the flow of writing and publishing. I recommend that in the beginning, write a bunch of posts before letting others know your blog is live. This helps you understand what you're doing and where it's going, and gives your readers more posts to show your blog has depth.
* * *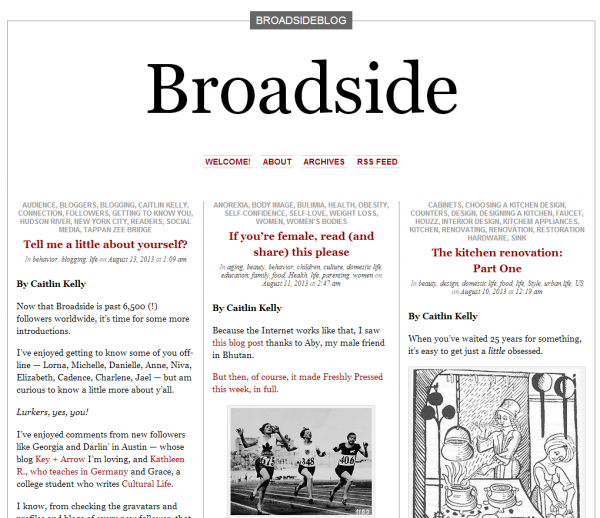 Caitlin Kelly
Blog: Broadside
Description: (It covers) everything! Most frequently about work, relationships (of all kinds), and writing.
Blog birthday: July 1, 2009.
WordPress, Blogger or something else: WordPress.com.
Blog theme: DePo Masthead. I chose it for two reasons. It resembles a newspaper layout, (and I'm a journalist), and it showcases three posts at a time, which I think ups the odds of someone quickly finding a post they find appealing.
Advertising: None yet.
Posts to date: 1,446
Most popular post ever: Ten Ways to (Seriously) Improve Your Writing and Would you rather be creative or productive? Every ambitious blogger wants to get better, and creative people struggle with how (best) to allocate our time.
Your favorites: Ten Ways to be a Kick-Ass Assistant proved extremely popular both for younger readers heading into internships or first jobs and for their bosses, who sent it around. Also, Twenty Things that Make Me Happy was a totally spontaneous post that really resonated for people. Readers need a little cheer! The price of the unconventional life created a lively dialogue with readers about the choices we make and the costs they bring.
Blogs you read: Apartment Therapy, which has terrific and helpful design slideshows; Mindful Stew, written by a high school teacher in Kentucky about education, and One Quality, The Finest, which offers a daily French word or idiom and its derivation.
Why blog: I really enjoy a lively, global, civil conversation about ideas, with readers from teens to seniors. As a non-fiction author, it helps me grow a large and appreciative audience for my work. It's writing for pleasure – no income, but no editors.
Advice to beginning bloggers: Think broadly. The internet is global, so if you focus only on your neighborhood, town or region, this will limit your blog's interest. Write for a wide audience. Readers are hungry for smart, witty, interesting material. I have no kids and am in my 50s, but have many readers in their teens and 20s, so don't assume you're only writing for a specific co-hort. Set a consistent tone: funny, snarky, wistful, questioning. Readers will come back to you for your strong, clear voice. Be voraciously curious about the world and how it works (or doesn't.) I've blogged about young street musicians, reproductive rights, war correspondents, whatever intrigues me. Bring your readers into worlds they've never even imagined. Do the work! I blog three times a week, sometimes more. If you're going to ask for readers' attention, reward it with consistent content, not a random post every few months.
* * *
If you blog and have hit the 1,000-post mark, I'd be happy to consider including you in an upcoming list in this series. Answer the questions above for your own blog and send them to me at [email protected].