If you run a blog and have reached 1,000 posts, you've accomplished something.
A thousand posts says you've passed the honeymoon phase of blogging, and still love it enough to keep going.
If you've done 1,000 posts, you've figured out how to make it a satisfying endeavor for yourself, keep readers entertained, and maybe even made it a bankable enterprise.
If you've hit 1,000 posts, you've mastered the technical side of blogging, whether that means knowing how to lock and load a post in WordPress in under 10 minutes, learning the mechanics of Blogger or tinkering around with Tumblr enough to know what you're doing.
1,000-Post Bloggers
Once a week, I'll be sharing the success stories of long-time bloggers in a series called a series called Blog Stories. You can read the first installment here: 1,000 posts & counting: Long-time bloggers share milestones, advice.
Here are the stories of two more superstar bloggers:

Brian Libby
Blog: Portland Architecture
Description: Design, architecture, planning and urbanism in Portland, Oregon
Blog birthday: Februrary 2005
WordPress, Blogger or something else: Typepad
Blog theme, or website designer (or both): Designed by yours truly
Advertising networks: Newstex and Blogads
Posts to date: About 1,350
Most popular post of all time: The most popular of the past four years is Return of the Hung Far Low sign.
Favorite posts: Riding the Eastside streetcar, and considering its impact, from March 2013 – I enjoy the chance to consider how architecture, transit and urbanism influence each other; A conversation with Brad Cloepfill from March 2013 – I like being able to interview Portland's best architects, and Cloepfil is at the top of the list; and Commitment not brainstorming: Memorial Coliseum on the eve of its restoration, from June 2011 – The biggest advocacy effort of my career has been saving Memorial Coliseum in Portland.
Why you blog: It's the chance to take control of my own writing, how and when it's published and how it's edited. I also view blogging as an entrepreneurial opportunity, the chance to make money directly from advertising.
Blogs you read regularly: PORT
Advice: Post often and consistently but only when you have something substantive to say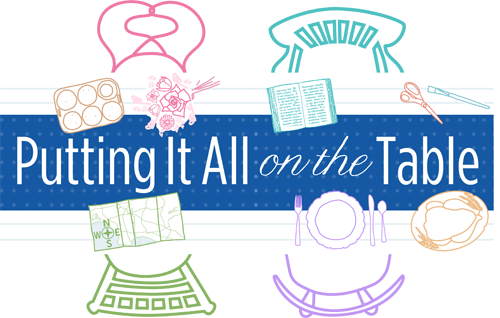 Brette Sember
Blog: Putting It All on the Table  
Description: Food, travel, collections, decorating, gardens, books, organizing and my life.
Blog birthday: 2009. My blog started with another name and URL and I made a big change a couple of years ago and renamed it.
WordPress, Blogger or something else: Wordpress
Blog design theme:  Cap with custom modifications
Ad networks: None
Total posts to date: 1,377
Most popular post: One-pan pasta. I think it's popular because it's so easy and no one would ever think you could do it. It got a lot of shares on Pinterest, which helped.
Your favorite posts and why: I've been doing a series where I write about one item in one of my collections and tell where it's from and why it has meaning to me. Here's an example: Lightship baskets.
Blogs you read regularly and why: MyItchyTravelFeet.com: The Baby Boomer's Guide to Travel, because she's making money doing travel writing. I also read Living Large in Our Little House; I just like Kerri and find her posts kind of comforting.
Advice for beginning bloggers: You have to be relentless and post continuously. Don't stop even if you think no one's listening. Post every single post to social media for added traffic.
* * *
If you blog and have hit the 1,000-post mark, I'd be happy to consider including you in an upcoming list in this series. Answer the questions above for your own blog and send them to me at [email protected].