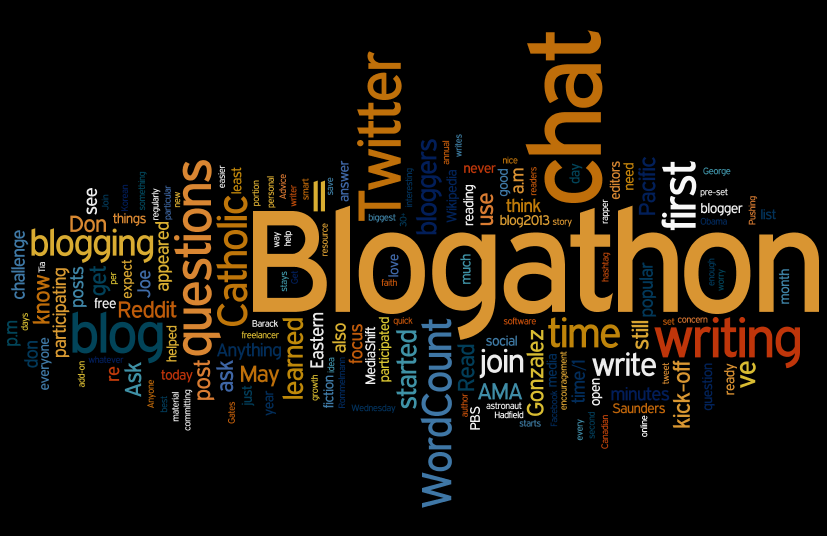 Congratulations for signing up for the 2013 WordCount Blogathon community blogging challenge to post every day in June. If you're part of the event, you're in good company. This year, approxiamtely 210 people registered for the event, including bloggers from the United States, Canada, Japan, Australia, Sri Lanka, Serbia — and that's just the countries we know about.
If you're participating, don't forget to "Like" the WordCount Facebook page and use it to share links to your daily posts, and cheer each other on. Look at blogging related posts on the 2013 Blogathon Pinterest page. And share Blogathon tweets using #blog2013. Here's the complete calendar of events for the month-long challenge, including theme days and more. In case you missed it, here's a run down of close to $1,200 in raffle prizes that everyone who makes it through the entire month is eligible to win.
As always, we're publishing a complete list of bloggers who're doing the event. Follow the links to read posts and leave comments. This year for the first time, we categorized blogs by category to make it easier for bloggers who write about the same thing to meet each other and find partners for the June 12 guest post swap.
Here's the list:
Business
Anne Headen, Anne Headen
Annie Logue, Ann C. Logue
Barbara Millisock, Virtual Barbara's Blog
Cindy Chow, My First Magic Button
Dani Magestro, Habitat, Biz + Soul
Dirk Myers, Service With a Style, Great Experiences Don't Often Happen By Accident
Hillah Culman, The One Ingredient
Jan Udlock, Jan Udlock, Virtual Assistant
Jeanette Turner, Retire Healthier
Latha Lukose, Marketing Ideas for Small Business Owners
Leona Martin, A Plus Admin Services
Princess Clark-Wendel, Financial News and Tips
Sophia Indja, Swell Virtual Solutions
Susan Crawford, Top Notch Admin
Tawnya Sutherland, VA Networking's Virtual Assistant Blog
Tess Taylor, The HR Writer: Your Source for Human Resources News
Toni Nelson, Women Entrepreneurs
Urooj Kazi,  Freelance Business Writer
Food and Gardening
Alice Knisley Matthias, Herbinkitchen
Barb Freda, Babette Feasts
Billie Jo Grassinger, Tampa Bay Afternoon Delight
Carrie Whittemore, What's To Eat? Dining In and Out
Cristina Santiestevan, Outlaw Garden: Breaking the rules by growing vegetables
Dawn Weinberger, The Paleo Baby
Javier Cabral, The Glutster
Joan L. Bailey, Japan Farmers Markets
Joby Morey, Nomad Farmer
Rosemarie Thompson, Sanctuary Gardener
Suzanne Bell, Adventures in Eating Clean
Wendy Bottrell, Gluten Free Living
Health, Fitness, Sports and Wellness
Beth Curtis, Chasing My Joy
Christina Heinle, Lazy Bones Running
Danette Watt, Fitness Over 50
JoAnn Milivojevic, Feel Better in Your Body
Joanna Asmus, Happy Feet NL: Happy Feet in the Netherlands
Johann du Plessis, Run Tall, Walk Tall
Joy Lim, The Deadly Dance: Learning and Appreciating Filipino Martial Arts
Margaret Littman, Nashville Paddle Co
Marijke Vroomen Durning, Marijke: Nurse Turned Writer
L., A4bats
Sue Poremba, In the Shadow of Beaver Stadium
T.A. Barnhart, The WOD Life
Lifestyle
Amber Budd, All Made Up by Amber
Amy Donovan, I Don't Know Much of Anything
Andria Tieman,  Find me Frugal(er)
Angela Barber, Badass in Progress
Arla DeField, Saying NO Without Feeling Guilty
Betzy Carmona, Betzy's Makeup: A Beauty Blog
Bruce Denton, Blue Ridge Pilgrim
Cariann McCready, Unionvale Homeschool
Chelsea Sullens, Waterfall Photography
Cheryl Wright, Cheryl Wright
Christine Calvin, Inspired Life
Danny Ouellette, All Knittings Great and Small
David Cook, Lucid Wisdom: Awakening Human Potential
Hillah Culman, The One Ingredient
Jackie Dishner, Bike With Jackie
Jennifer Corter,  Positivity In Pain
Joanna Asmus, Paper In Europe: My Daily Mooosings in the Netherlands
Joseph Wilcox, Queer Joe's Knitting Blog
Julie Phelps, The Real Jule
Katie Sweeney, Writerish
Leah Ingram, Philly on the Cheap and Suddenly Frugal
Margarette Burnette, Steady Wallet and Coupons and Kids
Maria Northcutt, Discovering Ranch Life ~ Photography
Marla Lawrence, bpnurse
Meg Gerner, De Petites Merveilles
Melissa Lindberg, The Good Idea Girl
Michelle Nahom,  A Dish of Daily Life
Paula Kumert, Happysnappy, a storyteller with a camera
Sally Kuhlman, Around The Bay
Sandi Picache, Sandi's Diaries
Shihaam H., Misplaced Indulgences
Sookie Stackhouse, Darling Sookie: Inner Ramblings from a Telepathic Barmaid
Teri Cettina, Your Family Money
Vilma Sceusa, That Girl Is Back
Walker Thornton, Walker Thornton
News and Politics 
Rachel West, The Political Social Worker
Ruth Kraut, Ann Arbor Schools Musings
Tony Bishop, The Whisky Poet Reflections and Musings of a Man and His Whisky
Parenting
Akanksha Agnihotri, Just Momkeying Around
Caren Chesler, The Dancing Egg
Cricket Desmarais, The Sparkle Power Project: Inner grit & glitter
Deboie Kaplan, Frisco Kids
Denise Schipani, Mean Moms Rule
Dominique Goh, Dominique's Desk
Elana Halberstadt, The Way It Is
Jessica Dunn, Parenting & Living Our Way
Jean Thilmany, Up and Down Adoption
Jennifer Derryberry Mann, Mamahh: Navigating the Labyrinth of Motherhood One Breath at a Time
Katie Woodleigh, Poetic Mumma's Imponderables
Kirsten Doyle, Running for Autism
Leslie Everett, More2Les
Sandra Gordon, Baby Products Mom
Tere Scott, Teachable Scotts Tots Homeschool
Personal and General Interest
Abra Cole, Abra Alani: The Pursuit of Photography and Pie
Alana Mautone, Ramblin' with AM
Ally Campbell, The Simple Life
Amanda Chambers, Living, Learning, and Loving Life
Anne Forline, Write Stuff and Signs of Silliness
Anne Noble, Mac's Musings
Bille Noakes, The BillieGram
Brian Mann, Brian Droppings
Carol Tomany, Divineknits with Infiknit
Carolina Diez, Sew Carolina Knits
Cathy Morton, Cathy's Voice Now
Cindy Douglass, Stardust Pottery
Dayle Lynne, I Shall be a Toad
Diana Busby, Diana Busby, Freelance Writer
Emily Calderin, NDloveNY
Evelyn Bennett, So much to choose from
Georgia Fogle, Made By Georgia
Jaimie Marzullo, Writings From The City Line
Jennifer Allen, Pierced Wonderings
Jennifer Beikes, Out Of My Head
John Harmon, Random Thoughts from a Random Dude
Jon Yang, Jonyang.org
Julia Biggs, Aunty Ju Ju's Perspective
Kasie Whitener, Life on Clemson Road
Kathryn Lance, KL's Sonoran Nature Journal
Kerry Manning, @KerryPoppins
Kim Griffin, Kim Griffin's Blog: Forever, For Now
Krista Barrows, Bon-bon's and Bubble Baths
Krys Klinge, Her Muses and  Black 'n Write Reviews
Leah Senona, Parrot & Ox
Liberty Montano, Liberty's Yarn
Lisa Jaffe Hubbell, Landguppy Productions
Lois Middleton, Playing a New Game
Maria Lauro, Blooming in Act 2
Marianne Sperry, Destiny Is Deafening
Mikaela D'Eigh, La Belle Dame de Merci
Mir Fuller, Balancing Tree House
Nancy Thompson, Just A Backpack and a Rollie: Radically Rethinking Retirement
Niki Abel, My Life Remixing
Philip Griffith,  PSG Blog: Photos and Family
Pierce Presley, The Real Pierce Presley
Rosanna Rogacion, Writing Prompts from Life
Rossandra White, Rossandra White
Sarah Ward, Blue Water Dreaming
Sharon Hughes, The Real Sharon
Stacey Gonzalez, Toe in Water
Susan Donnelly, Shrink Around The House
Suzanna Padderatz, Simply Cute as a Button
Tara Phillips, Two Hands and a Road Map
Tracey Masters, A Learning Journey
Trish Kieffen, Inkster
Yael Grauer, Yael Writes
Spirituality
Don Gonzalez, Joe Catholic
Erlinda Blevinsm, So, Here's What I Think…
Gloria Marie Pelcher, Gloria Marie
Jen Harris, Ponderings of an Elect Exile
Kate Megill, Teaching What Is Good
Katie Dancause, TLC
Kym Crawford, Simply Dazee
Marcia Collins, Discover What's NU through Coaching
Martha Shad, Martha's Musings
Michele Voilleque, Singing/Speaking/Being
Michelle Fave, Rite Here Now
Susan Wilson, Ripple Spillers: Because filling your spirit creates ripples in your life
Tracy Dereszynski, Walk. Build. Proclaim
Technology
Elizabeth Kricfalusi, Tech for Luddites: Increase Proficiency. Decrease Profanity.
Eva Schweber, TechWhisperer
Mary Wigginton, Particles of Physics
Travel
Deborah Brauser, Travel Browsing
Elizabeth Joss, Solo Travel, Art, Culture and the Good Life
Leslie Patrick, Chic Adventurer
Sona and Navdeep Dhillon, Ishq in A Backpack
Steven Moore, Twenty First Century Nomad
Van Waffle, Speed River Journal
Vanessa Ahern, Hudson Valley Good Stuff
Writing, Media and Language
Aleksandra Milcic Radovanovic, Linguist Blog
Alison Law, Southern Spines
Annette Gendler,  Annette Gendler
Ashley Howland, Ghostnapped
Brandee Crisp, Never Pity the Past
C. de Valois,  Ad infinitum ~ C. de Valois
Denver Pittman, Memories on Cassette; Thoughts That Hang From Trees
Elizabeth Hein, Elizabeth Hein
Francene Stanley, Francene–Year 2013
Garmisch Riley, SUBTLE Transition
Janine Robinson, Essay Hell: The Hottest Writing Source for College Application Essays
JC Hammond, Informed Ideas
Jean Gogolin, The Writer's Clinic
Jennie Phipps, What FreelanceSuccess Says
Jennifer Goforth Gregory, The Content Marketing Writer
Jennifer Lawler, Be Your Own Book Doctor
Jennifer Willis, Jennifer Willis
Julie Flanders, Julie Flanders
Karla Akins, Writing Humor, History and Hope
Katy Manck, BooksYALove
Leah MacDonald, The Fickle Fantasy
Leisla Jaberg, Ketab Girl
Linda Brown, Desert Translator
Marcia Layton, Association of Ghostwriters
Margie Hall, Marguerite Lafayette
Marial Shea, Marial Writes
Megan Hicks, Life, the Universe and Everything
Meral Agish, Meral Agish | Multimedia Reporter in Training
Michelle Rafter, WordCount: Freelancing in the Digital Age
Navdeep Dhillon, The Gentleman Writer
Nicky  LaMarco, Freelance Writing 4 Beginners
Pashaura Dhillon, Pashaura Singh Dhillon: Poet, Singer and Activist
Patricia Caviglia, Patricia Caviglia's Blog
Rachel Ward, A Discount Ticket to Everywhere
Rion Wilhelm, Rion's Worlds of Imagination
Rosanna Rogacion, Writing on the Pages of Life
Rosemary Barraclough, My 30 Day Blogging Challenge
Sara Lancaster, No. 2 Pen
Sheela Kangal, Sheela Kangal Works
Sona Charaipotra, By Sona Charaipotra
Sue Ann Bowling, Homecoming Book
Ted Atchely,  Ted the Third; An atypical Christian shares lessons he's learning about Writing, Fatherhood, and Life
Tia Bach, Tia Bach, Author
Tracey Arial, Arial View
Victoria Musgrave, Cultivating Connection Through Story
Walter L. Johnson II, Communication Careers Corner