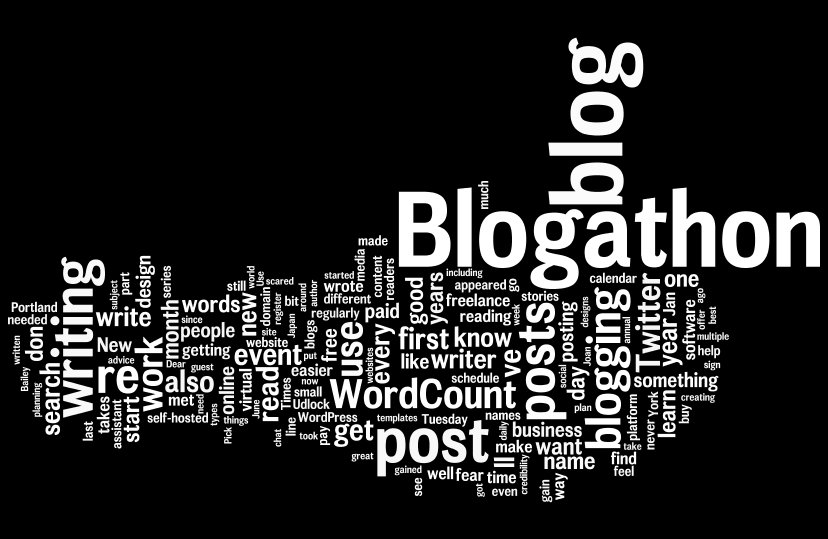 Signing up for a month-long blogging challenge is one thing. Figuring out what you're going to write for 30 days straight is another. To make it a easier on everyone, the Blogathon includes a number of theme days, a guest post exchange and other events that you can use as writing prompts. If you've already signed up, put these dates on your calendar. If you haven't signed up, what are you waiting for? Register here: 2013 WordCount Blogathon.
Here's the list of theme days, chats and other special events for the 2013 WordCount Blogathon, which takes place June 1-30. One note: theme days and other events are 100% optional — you can use some of them, all of them or none of them depending on how they fit your blog or your mood that day.
2013 Blogathon Events List
May
May 29 – The WordCount Last Wednesday monthly chat kicks off the 2013 Blogathon. Worried you can't come up with blog post ideas? Haven't ever scheduled posts before and are wondering how? Ask your blogathon questions during this hour-long chat, which starts at 10 a.m. Pacific time. Use #blog2013 to participate. Never done a Twitter chat before? Read this: How to join a Twitter chat.
May 30 – Read tips for coming up with 30 days worth of blog posts.
May 31 – Last day of registration. Everyone interested in doing the challenge must be signed up 8 p.m. Pacific time/11 p.m. Eastern time. Late comers can participate unofficially after registration closes but aren't eligible for raffle prizes. On May 31, I'll also publish a list of 2103 Blogathon sponsors, and find out what prizes they'll be giving away in a raffle for bloggers who successfully post 30 days straight.
June
June 1 – The blogathon begins. WordCount publishes a blog roll of participants. This year, participating bloggers will be listed in groups according to the topic they blog about — food, travel, parenting, writing — so it's easier for people who blog about the same thing to find each other to find guest post exchange partners and build relationships.
June 5 – Theme Day #1. Participants are encouraged to write on the same theme: My 5 favorite apps. The post could be about apps you use for writing — or keeping yourself away from distractions while writing — smartphone apps, or plugins or widgets that you use to run your blog. Don't use apps? Find out about some that you'd be interested in trying and write about them, or ask friends for their recommendations.  Theme days don't fit into everyone's blogs, so it's up to you whether or not you play along.
June 8 – This and every Saturday during the month, I recap interesting posts from around the blogathon.
June 12 – Guest Post Exchange Day. This blogathon staple encourages writers to trade guest posts with another blogger in the event. Past guest post exchanges have led to lasting friendships and regular post swaps throughout the year. The best ways to find a partner: post a message on the WordCount Facebook page, which serves as the online meeting place for people in the blogathon. Or use Twitter – don't forget to add the blogathon hashtag #blog2013 to anything you share on Twitter so it gets picked up when people search on the topic.
June 17 – Theme Post Day #2. We're trying something new for the second theme day — asking everyone to record and post a video. More and more video content is being posted on YouTube, websites and blogs — why get left behind? Don't worry if you haven't ever done a video blog post before. I'll be sharing tips in a post on June 6 so you'll have plenty of time to prepare. And remember, you don't have to participate in theme days if it doesn't fit your blog or comfort level.
June 24 – Haiku Day. A day devoted to writing a three-line poem — who knew this simple throwback to grade-school English class could be so popular? Yet in the two years since we added it, it's become one of the highlights of the month. Pick the topic of your choice and write about it in this Japanese poem form. Find out more about it on this how to write haiku page and read these haiku examples from a previous blogathon.
June 26 – The usual last Wednesday of the month writer chat I host on Twitter will be rescheduled for July 1 so we can use it for the blogathon wrap party (see below).
June 30 – Word Cloud Day. Use Wordle or another word cloud tool to turn your words into a picture. If you're not sure what a word cloud is or how to create one, read these instructions. Then go relax, your blogging work for the day — and month — is done. Participants who posted all 30 days will be able to collect an "I did it!" badge to display on their blogs. Watch for details on the WordCount Facebook page.
July
July 1 – you did it! The Blogathon wrap party and raffle drawing take place on Twitter at 10 a.m. Pacific time/1 p.m. Eastern time. We'll share what we liked, what we hated and what we learned from blogging every day in June. The raffle drawing takes place at the end of the hour. Use #blog2013 to participate.
If you're not sure what a word cloud is or how to create one, read these instructions.