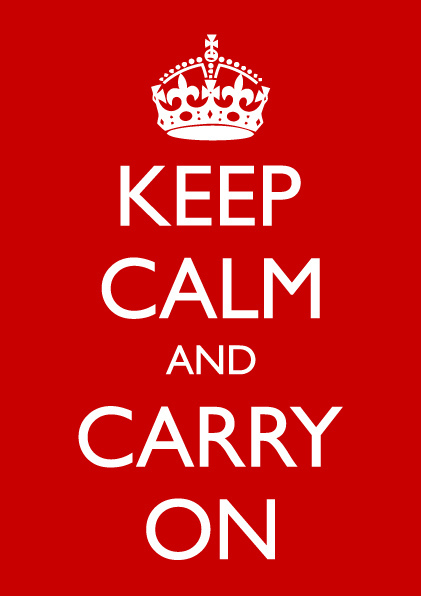 Today's post comes from U.K. parenting blogger Helen Wills, who shares tips that could apply to any blogger or writer attending a conference for the first time, regardless of where they live. — Michelle V. Rafter
The writing and blogging conference season is looming, and social media threads are full of chat about who is attending what. It's an exciting time, with announcements of keynote speakers sparking Twitter gossip, and plans for satellite gatherings in bars and coffee shops around the edges.
Yet for every excited tweet I see, there's another expressing nerves, insecurity, or outright fear of attending. Why is the prospect of meeting online friends so terrifying, and how can anxieties give way to the huge opportunities afforded to bloggers by these events?
I remember my first conference very clearly. I had been blogging for two months and had discovered BritMums, the UK's largest network of parent and lifestyle bloggers. I entered a competition for a ticket to the event, won, then panicked. I had made a few tentative online connections with commenters on my blog, but didn't even have a Twitter account. I was terrified.
Bloggers Share Overcoming Their Fears
My trepidation is far from unusual, as evidenced by reactions from other bloggers I asked about this. One is Anna, a published writer with degrees in English and linguistics. Although she has been blogging at DummyMummy for two years, Anna is too terrified to attend an event full of "strangers."  She writes:

"My stats are pretty appalling, and I'd love to meet other bloggers for advice and chats about blogging… but the thought of being alone in a room full of experienced, talented, confident writers just scared the hell out of me."
Blogging is very personal, so perhaps a fear of laying oneself bare to judgement is what stops writers from engaging on a physical level. Elaine, who blogs at Fun as a Gran, says that getting no response to a tweet is far less distressing than the prospect of walking into a room and being ignored. She goes on to explain:
"I spent a lot of my school days moving from school to school as Elaine no pals. I would be so worried that nobody would talk to me or want to know me. I worry nobody would want to share a room with me and that my clothes and hair would not be good enough."
In reality, the fear is never usually representative of the reality. Rachel, who writes the RightFromTheStart early education blog, was nervous about meeting online connections for the first time. She prepared herself by asking the NetMums community, another site for U.K. parenting bloggers, to put her in touch with other bloggers who needed a room share. She says:
"When I arrived I sat at a table and was amazed at how friendly everyone was. People were keen to stop me and ask me who I was and though I felt a little lost it was a very friendly event."
So what can organizers do to encourage more bloggers to face their anxieties? Nickie, a well-respected and established blogger who runs the blog Typecast, still remembers worrying over her first conference. She conquered her nerves by finding someone who lived nearby to travel with. Knowing someone else in the same position helped give her the confidence to make connections with strangers. Since then she has attended – and spoken at – numerous events, and has this tip for organizers:
"I like the idea of visible assistants at conferences; BritMums have their "butterflies," approachable people who can guide you in the right direction to the next session or introduce you to someone you can have a brew and a chat with."
As for me, I got through my first event with a bigger smile than my nerves merited. Each event has been easier, has helped me improve my blog, and make valuable connections.
More Tips for Your First Event
Still not confident enough to book that ticket? Here are some tips to help you click the button and go for it:
1. Travel with another first-timer. Barring that, arrange to meet an online contact for coffee before walking into the event.
2. Arrive early. It's harder to break into conversations if there are groups already immersed in chat.
3. Get to sessions in time. Sit at an empty table. You'll find other nervous people approach you when they see you're on your own.
4. Ask an organizer to introduce you to someone. They will know of someone else who just walked in alone, or is also feeling unsure.
5. Ask questions. Lots of questions. It's easier than talking about yourself, and will help others open up to you.
Are you attending a blogging conference this year? Let us know how you're preparing for it by leaving a comment.
Helen Wills is an online copywriter and contributor to several U.K. parenting websites and lives in Hertfordshire, just outside London. Her personal blog, Actually Mummy, catalogues the ups and downs of family life and school in the voice of her 8-year-old-daughter. Wills won the Schooldays category of the 2012 Mum and Dad Blogger awards, and writes a monthly column for BritMums on the best new bloggers.
[Flickr photo by atomicShed]