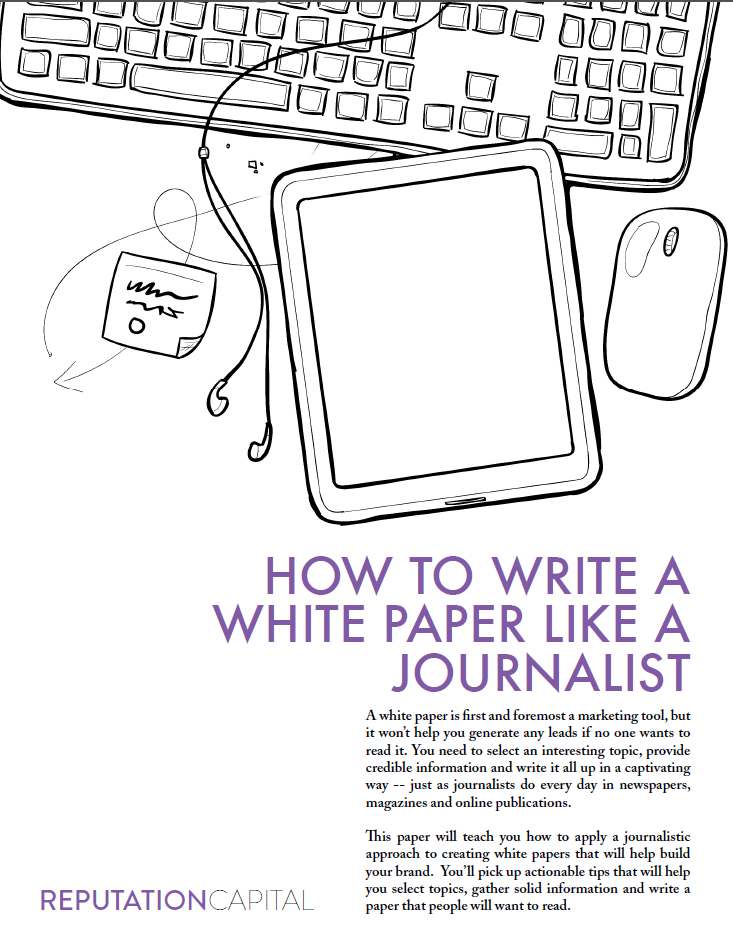 Content marketing has become a lucrative business for freelance reporters and editors, and one piece of that is writing white papers. Here's your chance to learn how to write a white paper.
On Thursday, Feb. 7, I'll be participating in a webinar on the subject of how to write a white paper hosted by Reputation Capital Media. The online session takes place at 11 a.m. Pacific./2 p.m. Eastern.
Registration is free. Sign up here.
In case you're unfamiliar with them, white papers are reports on specific topics that companies or organizations produce to help promote their products or services. If that sounds pretty vague, it's because a white paper can be anything from a one-page case study on how a company overcame a specific obstacle to a 35-page report on an entire industry.
In addition to being a helpful resource for freelancers who want to learn new skills, the webinar would also be helpful for marketing or PR professionals who are taking over content marketing duties at their companies.
How to Write a Whitepaper
In the webinar, I'll be sharing advice based on the work I've done over the past three years producing close to a dozen whitepaper. Some of that advice covers how to:
Find expert sources
Conduct interviews
Write white papers that are informative and interesting
Promote a white paper through social media and other channels
Reputation Capital is a content marketing agency run by Mary Ellen Slayter, a former reporter and editor for SmartBrief, the business newsletter publisher, and the Washington Post.
Joining Mary Ellen and me are Thomas Mangan, a newspaper editor turned content marketing and editing freelancer, and Jennifer McNally, SmartBrief's vice president of content marketing.
If you register for the hour-long webinar make sure to stick around until the end, when we'll be answering questions.
Reputation Capital published a companion white paper called How to Write a White Paper Like a Journalist, which you can download for free here.
If you can't make the webinar, you will be able to listen to a recording (I'll share a link here when it's available).
Resources on Writing White Papers
Here are some other posts on how to write white papers, from WordCount and elsewhere: