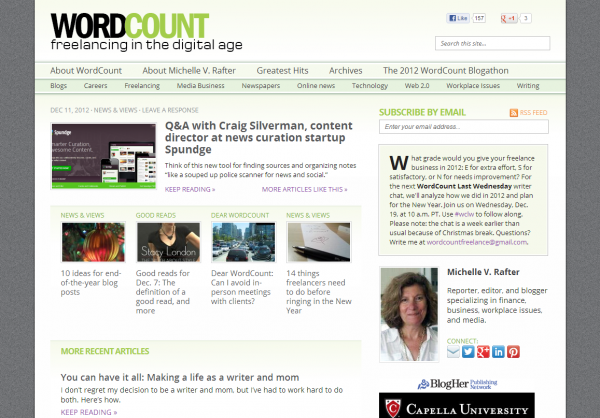 Welcome to the new and improved WordCount freelance writing blog.
Last week we introduced a major redesign to make the blog more useful by making it easier to read posts, find things and search for information.
The bulk of the credit for the new look goes to website developer extraordinaire Ron Doyle, with Denver-based Waterday Media. Doyle created the original design three years ago when I switched from a WordPress.com to running my own website. He's been instrumental in creating the newsier look I was going for this time around.
WordCount Blog Design Changes
Here are all the changes we made:
A redesigned front page. The new front page shows more thumbnails of recent blog posts. The intent is for readers to see and click through to more posts.
A two-column layout. The new layout replaces the old three-column format. On the front page, it includes a main column where thumbnails of the newest posts run at the top followed by more recent articles and select "Best of WordCount" posts. If you click through to read a post, the main column continues through the end of the post. A sidebar column on the right side of all pages contains information for signing up for the website or the monthly WordCount newsletter, my bio, social icons, a BlogHer ad unit and then splits in two lower down to display other ads and badges.
A new main navigation bar. On it and elsewhere on the site, you'll see subtle gradient colors, which Doyle says gives the design more texture.
A new secondary navigation bar. The secondary navigation bar replaces menus that used to drop down from the main nav bar. Drop-down menus are hard to use on a smartphone and since people use smartphones to read news and blogs, I wanted WordCount to be as easy as possible to interact with regardless of the device you're using.
Custom fonts. Courtesy of Google Web Fonts.
Sprites for all design images. The header, navigation bars, gradient boxes and social icons are all contained in a single image file for faster loading.
A new top-level indexing system. Posts now fall into one of several categories, including News and Views, Guest Posts, Discussions — which I use for the monthly #wclw writer chats I host — Polls, Good Reads or Best of WordCount. Readers can search by these labels. They're also going to make it easier for me to compile blog posts into e-books.
Switching to sans serif font. I'm now using this fresher, more modern-looking typeface for headlines and body copy.
A new color for hypertext. Purple!

Relocated Search box. The search box that you use to find older posts is now prominently displayed at the top right of all pages, moved from inside the right sidebar column.
More social sharing buttons. We've added buttons so you can share your favorite WordCount posts on Facebook, Twitter, LinkedIn, Google+, Pinterest, StumbleUpon, Reddit and Newsvine.
New background color surrounding the site. If you read WordCount on an over-size monitor, you'll see a soft grey surrounding the site instead of the pure black that was there before, which to me, makes for a more pleasant reading experience.
SEO. On the back end, I'm now using Yoast WordPress instead of All-in-One SEO. I'm still figuring this out so I can't say much about it, except Yoast offers a way to check the SEO on each post before it's published, which has been a good reminder to do things like add links to older posts and make sure keywords are included high up in posts.
 What do you think? I'd love your feedback on WordCount's new design, even if it is just to point out a bug. Let me know by leaving a comment.