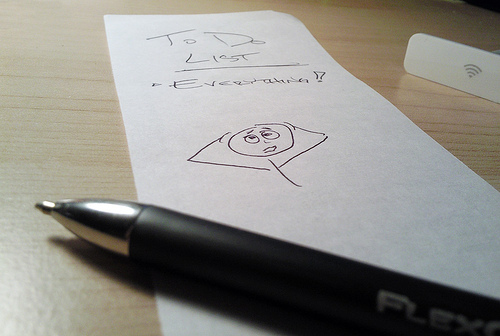 If you're like me, you probably spend December juggling holiday planning, shopping and decorating with year-end parties, concerts, Christmas programs and other special events.
But if you run your own writing business, there are a number of important tasks to take care of in December as well.
Here's a quick list to help with end-of-the year planning.
1. Make a to-do list. Use whatever works for you, paper, your computer or an iPhone app. Do a data dump of everything you intend to accomplish by Dec. 31. You'll rest easier seeing everything is spelled out. And it feels great when you cross off or delete things from your list.
2. Make year-end contributions. Had a good year? Make  a contribution to your favorite  journalism non-profit to take advantage of the tax deduction.
3. Accelerate expenses. Another tip if you had a good year: decrease what you owe Uncle Sam by making office-related purchases that qualify as business expenses. This could mean buying a laptop or smartphone for work in December rather than January. Or it could mean paying your website designer in December at the beginning of a project instead of in January at the end – as long as you're sure they won't take the money and run.
4. Delay payments. Another tip if you had a great year: reduce your gross income, and thereby your tax basis, by asking a client to pay an outstanding invoice in January instead of December.
5. Accelerate payments. If you didn't make as much this year, or anticipate having a mammoth 2013 – and the tax bill that comes with it – ask clients to pay up front in order to accelerate some income to 2012.
6. Fund your SEP-IRA. Every freelancers should have a SEP-IRA, a retirement savings account that allows you to deduct the amount you set aside from your taxable income. If you can, make the maximum allowable contribution, which is 20 percent of your self-employed income. You don't need to fund your SEP-IRA before Dec. 31. The IRS gives you until you file your annual income tax return on April 15, or even later if you file for an extension. But if you've got the extra cash at the end of the year, why not tuck it away now?
7. Send holiday cards to editors and other clients. Some writers send gifts to editors, but a simple card saying "Thanks for helping make it a great year" gets the message across just as well.
8. Thank vendors. Send holiday cards or thank-you notes to printers, photographers, website designers and other service providers you used during the year. It may be the extra touch that moves your project to the head of the line when they're swamped.
9. Take off the week between Christmas and New Year's. Check email if you must and touch base with editors if you have stories in the works. Otherwise lay low. Everybody needs to recharge, including the self employed. I got behind and didn't follow this advice last year and started out 2012 feeling tired and grouchy.
10. Pre-write blog posts. If you have a blog, pre-write posts so you can do No. 9.
11. Analyze where this year's revenue came from. Break down where your writing revenue came from so you can go after more work from low-stress clients who gave you assignments that turned into higher per-hour fees and get rid of clients who may have paid more per word but were difficult to deal with, didn't pay on time or put you though countless rewrites. Analyzing revenue also may lead you to realize you could be making more from ebooks, blog advertising or other revenue streams.
12. Create a business plan for the New Year. It doesn't have to be elaborate – a list of goals and the steps you'll need to take to meet them will do. Some writers' business plans include monthly or quarterly revenue targets, while others focus on getting into dream publications.
13. Renew insurance policies. Carry media perils insurance? Re-up before annual policies lapse and you get stuck with a higher premium as a result.
14. Renew subscriptions. If you pay for newspapers, magazines or professional organizations, renew subscriptions at the year's end, when many publishers and organizations offer holiday discounts and other deals.
What end-of-the-year activities are on your to-do list?
[Flickr photo by john.schultz]