Freelancers often shy away from marketing. Unless you do copywriting or corporate work, it can seem like foreign territory.
But marketing is basically communicating to other people about yourself, and who communicates better than a writer?
If the idea of a full-on marketing program is too scary, start small. A great launch pad is your email signature, the tag line you set up in your email software to add your contact information to the end of your outgoing messages or replies. You can use this feature to add links to your website, blog, social media accounts and a lot more, as you'll see.
It still surprises me that more writers – and editors and a lot of other people too – don't take advantage of this simple tool, which is built into most email programs, including Gmail and Microsoft Outlook.
Here are some simple types of email signatures writers can use to promote themselves and their work:
1. Create a basic email signature.
An email signature can include anything you want it to: your name, contact information, credentials, a book you're promoting, your professional affiliations, and on and on.
My default email signature includes my contact information and links to my blog and Twitter account: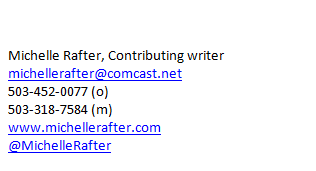 2. Use custom email signatures.
I also have several custom email signatures that I choose between depending on who I'm sending a message to. For example, I'm a contributing editor at Crain's Workforce Management, a human resources business magazine. When, I'm contact sources for Workforce stories, I promote my special standing at the publication by using a signature that includes my title and a link to the publication's website: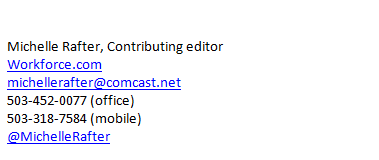 For non-work messages, I use a plain Jane signature with my name and contact information.
I use Outlook for most email, so when I'm sending a message, I right click on the default signature and it brings up my list of email signatures and I pick the one that's appropriate for that message.
3. Promote your blog.
Some writers use their email signature to promote their blog. Kate Megill blogs at Teach What is Good, and uses her email signature to link to it. With a picture like that, who could resist clicking through to read more: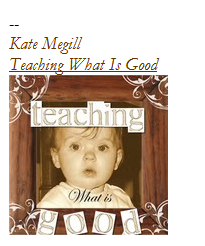 4. Promote a book or other projects.
You can also use an email signature to promote a new book or other project. Earlier this year when freelancer Kelly James-Enger wrote me about a guest post she was doing for WordCount, she was using her email signature to promote her latest novel:

5. Promote everything!
Some freelancers are masters of the email signature. Rachel Weingarten is one. Weingarten a writer and public relations specialist and it shows. She definitely knows how to work an email sig: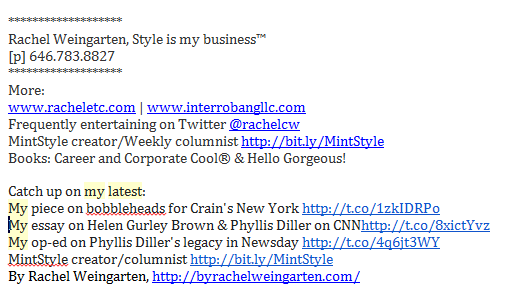 Even if you've never met her, you know a lot about Rachel Weingarten and her sparkling personality and wit just from reading her email sig. More importantly, you know a lot about her business.
That's the beauty of an email signature. It promotes you and your business – and all you have to do is hit the "Send" button.
If you've got a unique email signature, please share by copying and pasting it into a comment.