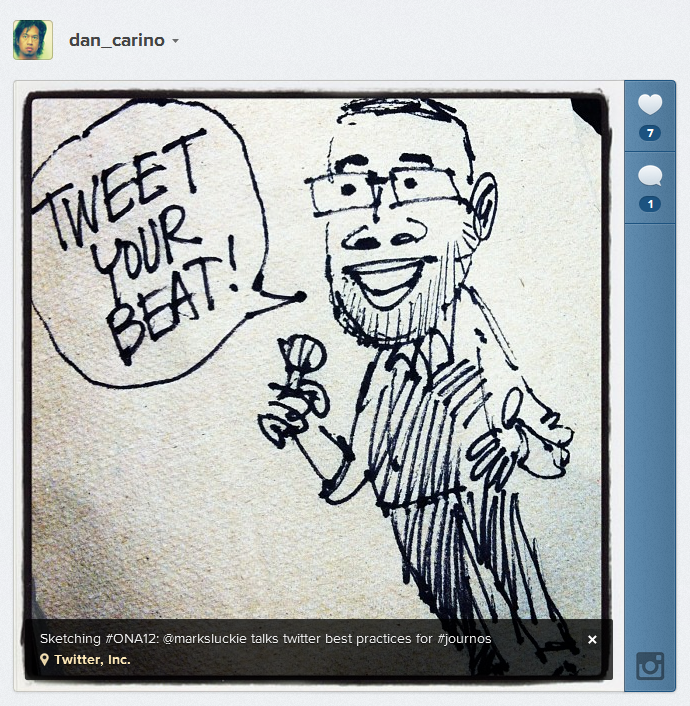 If you weren't among the hundreds of journalists who congregated at the Online News Association conference in San Francsico last weekend, you didn't miss out.
I've combed through Twitter and compiled the follow list of highlights of the conference, which brings journalists together once a year to share the latest in digital media gathering trends and tools.
Most of items on this list include links to discussions and presentations that took place during the conference.
If you attended the #ONA12 and have additional links to share, please leave them in a comment. Thanks!
Here are my top 20 highlights from #ONA12:
1. ONA speakers challenge status quo – PBSMediaShift's Kathy E. Gill recognized a common thread among conference speakers, that of needing to change newsroom practices, whether to adopt new ways of reporting and designing the news or use different terms to describe people living in the United States illegally.
2. 'Golden age of storytelling' – "I cannot think of a better time to be a journalist, nor a more important time to be good at what I do," said Jose Antonio Vargas in one of the conference's keynotes. Vargas famously told his own story of being an undocumented immigrant in this June 2011 New York Times story.
3. Top 10 tech trends – WebbMedia founder Amy Webb's session on coming tech trends is always one of the most anticipated of the conference. Among trends she's watching this year: verification, video, directed advertising and machine-written stories.
4. Twitter as journalism tool – In the conference's opening speech, Twitter CEO Dick Costolo said he thinks of the organization as a tech company in the media business, according to Poynter's Craig Silverman. Find more on this Sept. 20 post from @MarkLuckie on the Twitter blog: Best Practices for Journalists. Tweet your beat!
5. 'The most social election ever' – Storify co-founder and Hacks and Hackers founder Burt Herman spelled what implications the 2012 presidential election has for journalism and social media.
6. Google election app builder – Google unveiled the Civic Information API, a tool journalists can use to build election apps based on "voting information for an individual U.S. address, including polling place, early vote sites, contests, and local election official contact information."
7. Hyperlocal grows up – Good example of how local news is changing – NJ News Commons, neighborhood news site that looks like a mashup of Facebook, Pinterest and a traditional neighborhood weekly.
8. (Almost) ultimate guide to #ONA12 resources – Storified collection of top conference sessions from Steve Saldivar, social media coordinator at The Getty art museum.
9. Growing your business with metrics – Slideshow from Oakland Local founder and community news consultant Susan Mernit explaining how to use Google Analytics to decide what type of content to run, how to use social media to promote a site, and more.
10. Live note-taking experiment – Reporters used #ONA2012 to learn about the industry, but also to try out new ways of learning. Newsweek and Daily Beast senior editor Brian Ries was one of several reporters at the conference who used Google Docs to take public notes on the sessions he attended. Ries' notes cover #ONA12 session on media law, data journalism, tech trends, Twitter and more.
11. How to record Skype calls on your iPad – Practical information for the 21st century journalist. Hat tip to Wall Street Journal India writer Amit Agarwal for the post, and to Radar and O'Reilly Media writer Alex Howard for sharing the link.
12. Anatomy of a new journalist – Speaking of new tools, student journalists who received scholarships to attend and cover the conference used ThingLink interactive web tools to put together an infographic on the top skills and traits reporters need today.
13. Oops, I did it again – Student journalists covering the conference also asked attendees to share their biggest work-related mistakes in a reality-TV style video confessional. Watch and learn.
14. How to take your reporting show on the road – Washington Post mobile design director Joey Marburger taught conference goers how to make mobile apps for reporting and distributing the news.
15. How design works – What's wrong with news design and how to fix it, according to NPR designer Dave Wright Jr.
16. Offering safety and anonymity when it's needed – In areas of conflict, the act of gathering or just reading the news can be dangerous, which is why the Knight News Challenge tapped the Tor Project one of its 2012 winners. Tor offers journalists privacy and security by bouncing communications "through a volunteer network of about 3,000 relays" around the world.
17. 2012 Online Journalism Award winners – To see who's doing it right. Includes Oregon Public Broadcasting's @EarthFixMedia show, which won two awards – hooray for the home team.
18. Who's who at #ONA12 – A list of 446 of the journalists who attended this year's convention, conveniently compiled as a Twitter list that you can subscribe to, all the better to follow digital trendsetters – and editors who might want to hire you.
19. Great glasses – Who says journalists have no style? Check out #ONA12 goers' eyewear stylings in a collage compiled by ONA digital coordinator Kevin Loker.
20. Neo-retro #ONA12 best tweets list – Great minds think alike. Harvard's Neiman Journalism Lab compiled its own list of favorite tweets from the conference.
[Illustration courtesy @DanCarino]