In this guest post, writer Elizabeth Joss shares how writers and bloggers can use the popular productivity software, including how to use helpful features such as tags, views and Web Clipper.
Evernote is a software program for organizating information that features a minimalistic, easy-to-use interface.
I started using Evernote in 2011 and never looked back. It is one of the best productivity software programs I've come across, and it's free. It's also addicting.
Evernote works on desktops, smartphones, laptops or tablets and has a companion plug-in that works on most browsers (more on that later). The software syncs between platforms and browser apps automatically, which is ideal for writers who want to access their information and make notes from anywhere.
How Evernote Works
Evernote lets users create notes by clipping and saving information they find online, or by creating their own written lists, photos or audio files. Notes are stored in electronic folders called "notebooks" that can be organized according to topic or any other way a user wants.
Here's a screen grab of my notebooks: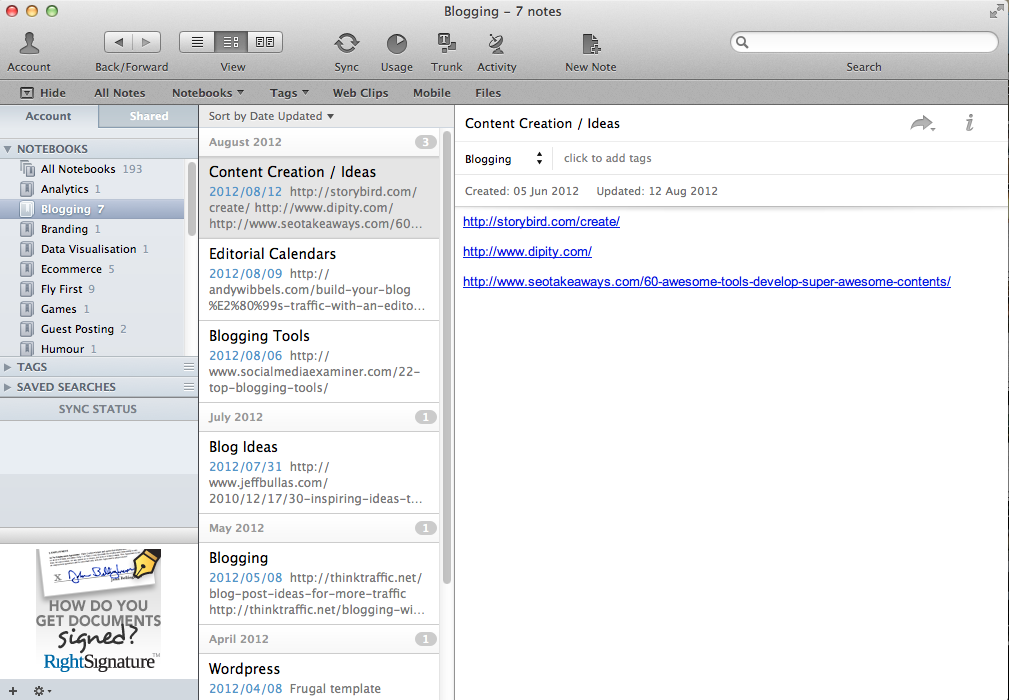 On the left, you'll see a list of my notebooks. In the one highlighted "Blogging," the number 7 indicates that I have 7 notes in the notebook. In the middle column, you'll see these 7 notes organized by date. You can scroll through the notes, and add or edit information as needed.
The content of a specific note appears in the far right-hand column. You can add your own notes in this section. In fact, I often start writing blog posts within a note, which has become the place where my writing ideas form and take shape.
Favorite Evernote Features
Some other Evernote features that writers may find useful include:
1. Multimedia. In addition to written information, Evernote lets you create notes from photos and mp3 audio recordings.
2. Tags. You can "tag" notes with keywords to classify the type of content or subject of that note. This makes it easy to search for notes on a specific topic. Evernote tags operate like tag clouds on blogs: click on the "Tags" tab on the left-hand side of the main navigation bar and a drop-down menu displays all the notes containing that tag.
3. Evernote Trunk. At the software's top navigation panel, you'll find the "Trunk," a list of add-on applications you can use inside or along with the program. The Trunk includes productivity apps, apps for recording audio and taking notes, and much more.
4. Evernote Web Clipper. Of all the Evernote productivity apps, this is my favorite. If you want to save a story or blog post from the web, you can use the Web Clipper to 'clip' it and the information is automatically stored as a note. You can clip entire articles, a section of an article or the article's URL. This saves you from copying and pasting bits of content from the web into a document. You need to download the Web Clipper app before you can use it with Evernote.
5. Email to Evernote. You can email documents or photographs directly to a note within your Evernote account. In the subject line of the email, include the title of the notebook that you want your photograph or document to be sent to so Evernote can classify it accordingly.
6. OCR scanning. Evernote's OCR scanning ability means you can do keyword searches on PDF files or scanned documents that you've saved as a note. Plus, you can setup software to scan to Evernote directly.
7. Views. Evernote offers different options for viewing notes, including a thumbnail view that's great for writers who like to see their notes in a more visual manner. The thumbnail view lets you see a bit of information from each note, giving you a visual overview of an entire notebook, as you can see in this example: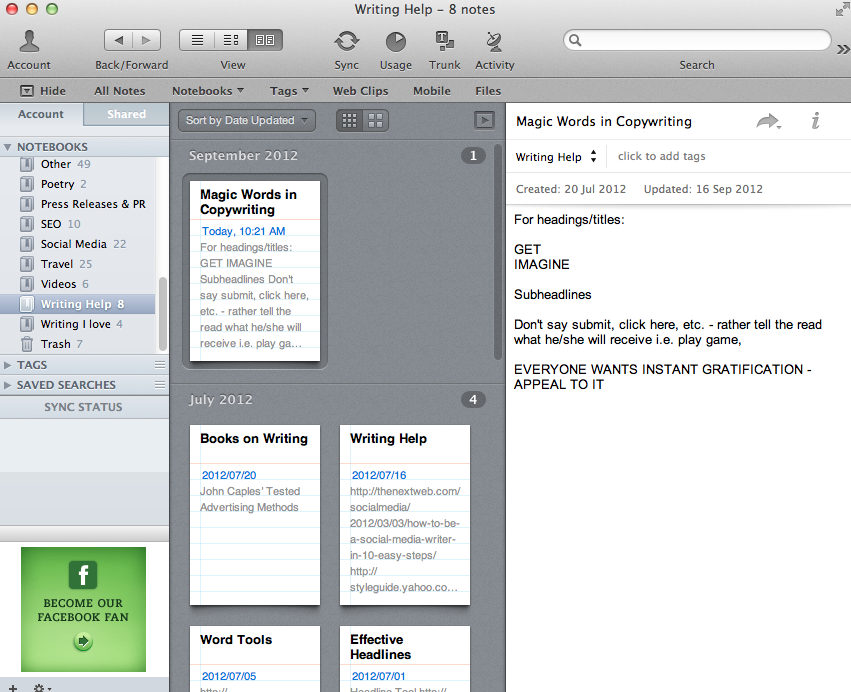 The features I mentioned are only the tip of the iceberg. I love Evernote's ability to help writers organize their ideas, words and writing inspiration in one easily accessible location.
If you're an Evernote fan, what's your favorite feature? Let us know by leaving a comment.
Elizabeth Joss is senior content manager at Xcellent Media, an online marketing firm with offices in London and Woodstock, South Africa. Joss is passionate about blogging and strives to inspire others to write, write, and write! For more of her tips, follow Xcellent Media's blog or like their Facebook page.