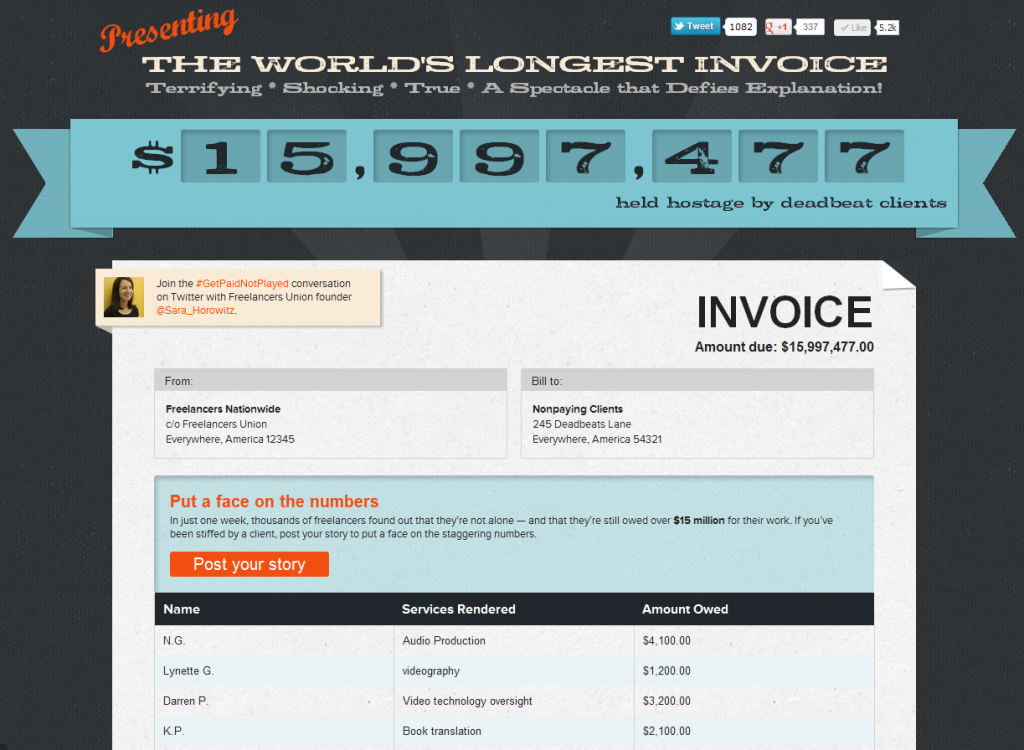 To do great writing, read great writing. Here's the great writing I've been reading this week.
Between launching the Blogathon, getting my regular freelance work done and tackling a bunch of non-work related activities – ever notice how many school events, showers, birthdays and holidays happen in May? – I haven't done a lot of outside reading this week.
But I did manage to do a little. Here are some highlights:
The World's Longest Invoice (Freelancers Union) – For any freelancer who's been stiffed by a client. Freelancers Union head Sara Horowitz put together this page as a humorous attempt to bring attention to a not so humorous problem of magazines, advertising agencies and other clients hiring independent contractors and then not paying for the work. In one week, the tally of uncollected income is closing in on $16 million.
Blogathon 2012 (@MichelleRafter) – Speaking of the Blogathon, one way to read what bloggers in the month-long challenge are writing is by following them on Twitter. I've made that simple, by creating a Twitter list of everyone in the Blogathon who's on Twitter – well, almost everyone. Right now, the list is up to 108 bloggers, and I'm continuing to add people as I see them or they contact me. If you're doing the event and I haven't added you yet, please tweet me a message to add you to the list.
A Tech Sabbath offers a chance to unplug, recharge (Oregonian) – Movie critic Shawn Levy explains the benefit of going screen-free for 24 hours. I'm taking his advice – after getting the Blogathon up and running I need it – and tonight I'm heading for the hills for a night of camping with the Boy Scouts, sans electronics.
Mockingjay – I'm a latecomer to the Hunger Games franchise. I held out last year when everyone was buzzing about it. But I succumbed during the build up to the movie and found the first book to be easy pleasure reading, a good way to spend a rainy weekend, which we have plenty of in Oregon (where clouds don't disappear and summer doesn't start until July 5). Ditto for Catching Fire, which I finished a couple weekends ago. When a friend said she'd loan me her copy of Mockingjay, I jumped at the chance. Tonight when the Boy Scouts are singing around the campfire, I'll be tucked in my tent with Katniss, Gale, Peeta, Haymitch, Prim and the gang.