I'm taking a week off from blogging for some R&R away from the keyboard. While I'm gone, please enjoy this WordCount post that didn't get as much attention as it deserved the first time around. I'll be back with fresh material on Monday, Aug. 15.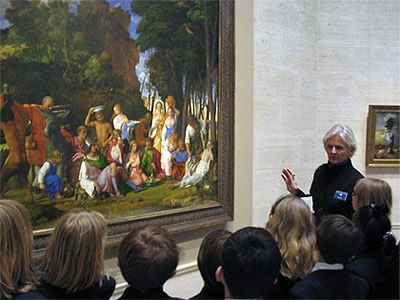 You know that old saying, 1+1=3?
Well, that's the idea behind content curation, which I touched on briefly in a recent post on why it's important to include links in blog posts.
Curating content – some people call it aggregating content – means assembling links to news stories, photographs and other storytelling elements in a way that adds value to what's already out there on the subject (while still giving credit to the original sources).
Think of it as the value-added reseller model of news – take another organization's basic reporting and add something original to it that makes it more relevant to a particular audience.
Drudge Paves the Way
The Drudge Report practically invented content curation. The 10-year-old site is nothing more than a whole bunch of links pointing to stories on politics and news of the day from an amalgam of other sources. The Huffington Post takes it a step further, wrapping reporting from its own news staff around links to stories produced elsewhere.
In a recent Columbia Journalism Review Q&A Slate Editor David Plotz told the magazine's Lauren Kirchner "everybody does some form of aggregation. Even the primary news sites, even The New York Times does things which are effectively aggregation," Plotz says. He adds:
They don't call it aggregation—no one calls it 'aggregation,' actually — but there are blogs that round up things other people have written, and quote heavily from them, and attempt to benefit from the work that other journalists have done. What they're doing is applying their intelligence to it. They're saying, 'The New York Times can make sense of what this blog is getting at, and frame it for you in a different way, even though this blog has done the primary work on it.'
If everyone's doing it, you should too, especially if you work as a journalist, since it's a skill that more news organizations want their reporters and editors to have. Who knows, maybe you already do. If you've ever put together a list of "Top 10 Pacific Northwest Bookstores" or "Best Places to go Deep Sea Fishing" or "101 Parenting Tips I Couldn't Live Without" that links out to news reports or other websites, you're already doing it.
Examples of Content Curation
Here are some other examples of content curation, which I purposely took from a variety sources to show how common the practice has become:
Mediabistro Revolving Door – This twice-weekly newsletter produced by Mediabistro, the media industry website, chronicles the comings and goings at (mainly New York) media and advertising companies. Basically it's just one big list. Mediabistro asks media industry people to check in when they get a new job and someone at the company monitors those emails, and also reads newspapers, media trade magazines and websites. Foith what else might be happening at a particular publication track who's up and who's out at Vanity Fair, The New York Times, CBS, Chiat Day and the like.
Nearly 100 fantastic pieces of journalism (The Atlantic) – The magazine's associate editor Conor Friedersdorf is also founding editor of The Best of Journalism, a newsletter devoted to pointing to exceptional nonfiction. In each issue, Friedersdorf recommends a few of what he considers to be the week's best magazine or newspaper articles. Earlier this month, he published a list of the best long-form journalism from 2010. He divided stories into categories such as The Art of Storytelling, Crime & Punishment and Profiles. Along with a headline, Friedersdorf also included his own short description of what each story was about. When he created the list, organized it into subjects and added his own descriptions, Friedersdorf acted as a curator, much the same as a museum curator organizes a gallery showing by placing paintings in a certain way and adding labels explaining why they're important.
SecondAct's weekly Hot Topics – Here's one example I know intimately, because I help write it. Early Friday mornings, editors and bloggers at this website for people over 40 go through the week's news for a roundup of six to 10 items they think readers will want to know about. Some items are recaps of stories that appeared in newspapers such as the the Times or U.S. News and World Report, like the Schwarzenegger-Shriver split. Other items are follow ups on subjects or people that SecondAct has written about before. Others still summarize new research or just published government statistics, such as theunemployment numbers for people over 40 I crunch the first Friday of every month. Put them together and you get a report that you wouldn't be able to find anywhere else.