Ever feel like there aren't enough hours in a day to do everything you want to or need to get done let alone something like writing a book? It could be you're just not using the time you do have as efficiently as you could. Laura Vanderkam, author of 168 Hours: You Have More Time Than You Think (www.my168hours.com), explains how to maximize your time in order to carve out the hours you need to write a book.
If you've never written a book before, tackling such a huge project seems daunting. But judging by the shelves at bookstores, plenty of other people — busy people! — have succeeded in writing books that other people want to read. Many of these authors have full-time jobs and families. They also have the exact same 168 hours per week that you do. How do they do it?
As I'm nearing completion of my third solo manuscript (which has come after numerous ghosted books) I'm starting to see patterns in my own work and that of other authors that make cranking out books every other year doable.
Here are 8 tips to make the process as efficient as possible.
1. Find a subject you can't stop talking about. Writing a book takes time, and if you have a job and a family, it will take time that you'd usually devote to other things: TV, web surfing, relaxing, etc. To make that tolerable, you have to enjoy your subject more than you enjoy visiting Facebook. If you're blogging, you've probably discovered what topics make the words flow for you. If you're going to live with a subject for 2 years or more, make sure you enjoy its company. But…
2. Make sure your subject is working for you. Selling books is hard work, so you want your book title and the angle to save you time by doing a lot of heavy lifting for you. Talk with people in the business side of publishing about what will make your subject appealing. When I started writing my most recently published book,168 Hours: You Have More Time Than You Think (www.my168hours.com), I was framing it as a sociological look at the changing way people spend their time. My publisher pointed out, accurately, that people would be more interested in a time management book with some sociology thrown in. What's in it for the reader? You want to assure people that your book is worth their while.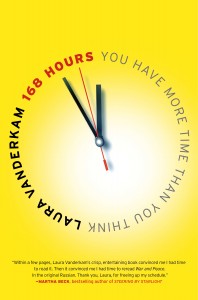 3. Test drive your material. Write several articles on the topic and see what feedback you get. Not only will this help you build a platform, it will enable you to do a lot of the research (paid!) so that when it's time to start writing, you'll be raring to go.
4. Set word count goals. Need to write your book in one year? 75,000 words in 50 weeks is 1500 words per week. Do 300 per workday and you'll have a draft. Of course not all those words will be keepers. But daily word count goals give you an accurate sense of how much time a book draft will take. How long does it take you to write 300 words? If you have 6 months, that's 600 words a day. How long does that take?
5. Block that time into your schedule. Cut out something you don't care about. In the course of writing 168 Hours, I looked at hundreds of time logs, and I have yet to see one that didn't have time that could be redeployed to a creative endeavor if the person wished. Carpool with neighbors and use the time you'd be picking your kids up at school to write. If necessary, wake up earlier than other people in your house and use that time. Eat at your desk and write then. Skip a meeting that's only tangentially related to your job and seize that time. The important thing is to keep at it. Give yourself a gold star on a chart for every day you write until it becomes a habit.
6. Don't aim for perfect. Aim for done. Little known fact: it is easier to edit a lousy draft than to edit a draft that doesn't exist. This is the theory behind National Novel Writing Month (www.nanowrimo.org), when people crank out a 50,000 word draft in 30 days. You don't have to do that, but you might set up an accountability system with a friend to make sure you keep hitting your goals and she hits hers (whatever they may be).
7. Get feedback as you go. Software companies test their products by having users play around with them, so they can see what works and what doesn't. The more people who read your chapters, the more likely they'll be to keep you from taking a long, time-consuming detour down a road that doesn't work.
8. Hone your book into talking points. This will keep you focused as you're writing, and keep you from wasting time dwelling on subjects that belong in another work. Bonus: the talking points will help with promotion, when you'll need to sound intriguing in a few sentences.
The good news about book writing is it does get easier. Your first marathon seems endless. The next one? Well, it's just 26.2 miles. You run that by putting one foot in front of the other until you're done. It's the same with books. They seem daunting, but they don't take forever. Nothing does.