To do good writing, read good writing. Here's the good writing I've been reading this week:
Betty MacDonald was the original mommy blogger. MacDonald is the author of The Egg and I and subsequent memoirs about her life in and around Seattle in the 1920s, 30s and 40s, though most people know her better as the creator of the Mrs. Piggle Wiggle series for children.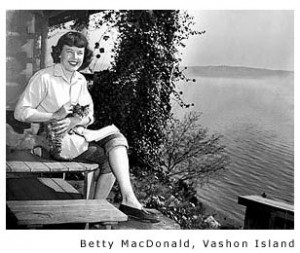 I knew about The Egg and I, probably because of the 1947 movie with Claudette Colbert and Fred MacMurray that introduced the world to Ma and Pa Kettle (if you haven't seen it, watch the trailer). But I never read it until last year, and quickly fell in love with MacDonald's breezy style and self-effacing humor.
Writer Claire Dederer feels the same way, as she makes clear in an essay on another MacDonald memoir, Anybody Can Do Anything, which she reviews for the Second Read column of the January/February 2011 Columbia Journalism Review.
Dederer relates to MacDonald, as a fellow Washingtonian and essayist. Growing up in Seattle, Dederer writes that she didn't think anybody would care to read about a nobody like herself or a dullsville place like the Pacific Northwest, which could only boast a handful of recognizable hometown writers (Richard Brautigan, Ken Kesey, Carolyn Kizer, Tom Robbins). Then Dederer discovered Anybody Can do Anything, MacDonald's tale of how she weathers the Depression taking odd jobs, with often disastrous results. Dederer drinks it in, along with MacDonald's other works, ultimately realizing that when it comes to essayists, lack of pretension, self-deprecating humor and a good eye for detail more than make up for geographic undesirableness. They're lessons Dederer tries to put into practice in her own recently published memoir, Poser: My Life in Twenty-Three Yoga Poses. I haven't read it yet, but reading this was enough to make me reserve a copy at the library.
Here's some other good writing I found this week:
And some tech tools for writers:
Humans vs. automated search: Why people power is cool again (CNN) – More love for Blekko, the search engine that filters out mill-generated web content, this time from Peter Cashmore, CEO of Mashable. He writes: "What's the problem with Google search? Spam, say the critics. Or rather, a new genre of not-quite-spam. So-called content farms have sprung up to produce thousands of articles per day with titles that match popular search terms — dig in to the content however, and you'll find it anything but useful."