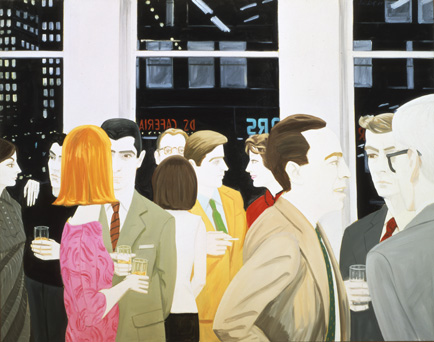 It's Day 8 of the 2010 WordCount Blogathon and I feel like the hostess at a cocktail party where the guests have had a couple drinks and are starting to mingle.
A lot of that has to do with the Blogathon Google Group Rebecca Allen helped get started earlier this week. As of May 6, about 75 blogathoners had signed up and conversations about guest posts and blog topics are in full swing. If for some reason you didn't get the invitation, or had trouble signing up, let me know.
Between the conversations going on in Google Group and on Twitter – at #Blog2010 – I'm getting to know more about this year's blogathoners and reading lots of posts. There's so much good stuff out there, I've decided to devote the remaining Saturdays in May to a list of especially engaging entries I happened upon this week.
Here's this week's edition of Around the Blogathon:
Build-a-blog workshop – Writer and website designer Ron Doyle is using the blogathon to crowdsource a redesign of his blog, BlogSaladBlog.com. Each day Ron picks a different element of his redesign and asks readers to vote on the direction he should take. So far so good, with the possible exception of the color scheme readers chose for him – not sure how well rust, tan and green are going to look together.
Scofflaws, reveal yourselves – In a completely different type of interactive experiment, Kathy Murray is asking readers to fess up if they've ever broken the law. A long-time journalist (and former newspaper colleague of mine), Murray runs Out and Employed, a blog offering job advice to ex-offenders that grew out of a class she teaches at an adult detention center.
Trust your gut – Tastee Pudding blogger Amanda Hirsch writes about how scary but important it is to trust what your instincts tell you about what you do for work, where you live and how you live. Good advice, especially for self-employeds like freelance writers who too often say "Yes" to projects for the money despite the alarm bells going off in their heads over circumstances of a project.
Idioms R Us – Speaking of trusting your gut, that expression is called an idiom and idioms are the subject of the blog, About English Idioms, Joanne Mason started recently and is using the Blogathon to get up and running. Mason is a freelance writer, long-time ESL teacher and tutor, so who better to unravel the mysteries of why we say face the music when we mean accept the consequences of what we've done than someone who's made language her career.
All-in-one blog reader – Keeping up with 110+ blogs participating in this year's Blogathon is daunting. Dylan, who blogs at DiscordianZen put together an RSS feed that groups all the blogs in the Blogathon onto one page, making it a real time saver.