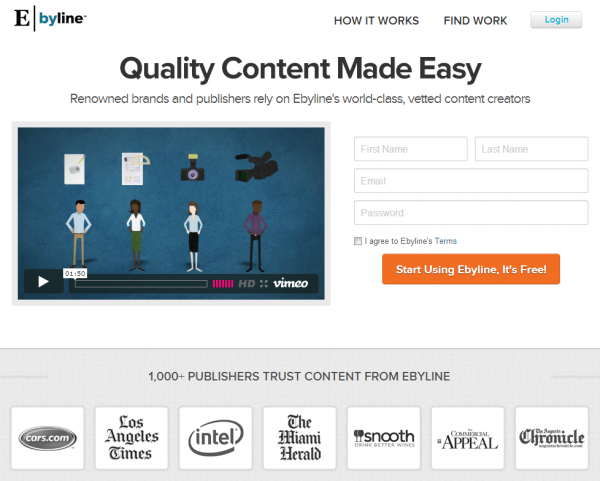 News organizations and content marketing agencies are using more contract writers, and looking for a better way to find, assign stories to and pay freelancers. One way they're doing that is using web-based freelance marketplaces or agencies, which have searchable freelancer databases for finding writers who are good matches for assignments, online project management tools for assigning and editing work, and links to online payment processors for sending a check when the work's done. An important difference between these web-based services such as  Ebyline, Contently and Elance, and content farms (like Demand Media a couple years ago) is that the former don't buy stories or other content for themselves. They're in business to make life easier for their newspaper, corporate and content marketing agency clients.
Ebyline was started in 2009 by a couple of former Los Angeles Times employees. Freelancers whose profiles make it through Ebyline's review process can use the service to find work with newspaper chains such as Scripps and Tribune, or corporate clients such as Intel, Gogo Inflight and Dun & Bradstreet. Online agencies like Ebyline charge publishers for  pairing them up with freelancers, collecting 1099s, getting contracts signed, cutting checks and handling other administrative duties.
I spoke with Ebyline Director of Content Peter Beller recently to find out more about how the company works, what freelancers have to do to get listed on Ebyline's website, types of publishers they work with and jobs those publishers offer, and more. Our conversation has been edited for length and clarity.
What's the difference between Ebyline and agencies like Contently or Elance?
We come from the journalism world. Our cofounders were at the Los Angeles Times 10 years ago, in operations and advertising. We work with a lot of daily newspapers, all the Scripps newspapers, Tribune, Gatehouse, all of the big newspapers chains. We have sort of the world's largest newsroom. The core is writers, but also photo and graphics people, anyone you'd find at a magazine or newspaper. Our DNA is much more friendly in the newsroom, but we also work with brands and agencies. Contently is focused almost exclusively on brands. Elance is the Walmart of freelance agencies, you get varying results.
How does Ebyline help freelancers?
You set up a profile, set up clips and information, tell us what beats you cover, and submit it for review. We're looking for very experienced freelance journalists, the kind who pitch for a living and follow through. You can pitch publishers, or publishers can post things on a pitch board. A newspaper maybe looking for a seasonal travel piece on traveling to the Southeast and freelancers can respond with a price. Any freelancer who an editor has invited onto the system can create an account. You just need an email and password.
If you want to pitch new clients and receive new assignments, you have to submit for approval, and we have a rigorous review process. About a quarter of all freelancers make it through. The majority are declined. We want to see people's skills or experience, or they don't meet our criteria and we only want to work with freelancers who've successfully pitched publishers. We're not a replacement for your existing clients. We know it's really hard work. We want to make life a little easier, make managing your assignments and payments easier.
How many freelancers have accounts on Ebyline?
We have about 2,000 freelancers who have (approved) profiles and are available for work and can pitch. The number of freelancers who work through the system is far greater. There are other freelancers who publishers invite in, and some who have chosen not to complete the application. We have about 700 publishers on the platform, some are looking for new talent and some just manage who they already have.
How many projects are being worked on through Ebyline?
We have something like 300,000 projects move through system every year, ranges from local journalists covering school board meetings to internet blog posts to big projects with lots of video and multimedia. The size of our publishers range from Intel to Tribune and Scripps – which in terms of volume of content is huge – to tiny companies, blogs, marketing agencies and apps that source content through us.
What about rates?
Rates are also all over the place. They include $50 to $100 blog posts where there's no interviewing required, or 'Interview our officer or client and put together a brief.' Newspapers like the (St. Paul) Pioneer Press use it for their own people, for example, to have one of their writers do a profile of a local business. We had a magazine publisher with a lot of specialty publications in building and construction look for freelancers familiar with construction trades to cover the aftermath of the Oklahoma City tornado, paying $1,000 for a series of short blog posts. Another assignment was to cover an association meeting in Atlanta that paid a day rate of $1,000. All the way down to a travel publisher looking for two short pieces on Wisconsin, 200 words for $40 each based on stuff they give you. We have a medical trade pub looking for a writer to do a series of pieces at magazine rates.
How do freelancers get paid?
When you sign up for an account, you input your PayPal account email address. We invoice the publisher and when they pay us it gets kicked to the freelancer automatically. You definitely get paid faster than is typical. Overall, freelancers are very happy. You don't have to invoice anyone. We charge the publisher's credit card or a company like Intel might invoice us every 60 days. The publisher agreements are online and you can look at them. Once a project is accepted from payment, the dashboard tells you the ETA for payment. So even if it's 30 days, you'll know.
How does Ebyline help publishers?
It' a pretty robust team management/project management tool. We want publishers and editors to work with freelancers in our environment but we don't insist everything happen on our platform. Publishers love us because they can find freelancers, but (they avoid) invoicing and tax document management.
How many publishers use the pitch board to find writers for projects?
It's a small percentage of what goes on on the platform. Someone might use it if they're in a pinch and wants to get a writer quickly without going through the database.
What publishers do you work with besides newspaper?
Intel uses us to source stories for a bunch of their blogs, such as IQ by Intel. Not that long ago, they asked one of our freelancers to write a story about the Arab Spring in technology. It's a great example of a corporate brand doing journalism level content.
What's your fee?
We don't charge freelancers anything, we never will. We charge publishers a percentage of what they spend on content, the idea being only to charge when they commission content. What we charge varies, the basic introductory rate is 8%. We have some publishers with a recurring monthly fee.
If you've used Ebyline to work with a news organization or agency, share your story by leaving a comment.