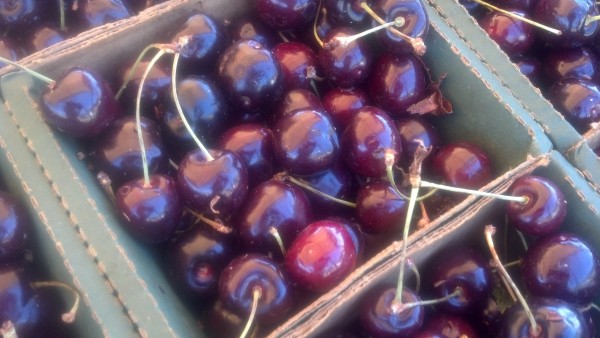 To do good writing, read good writing. Here's the good writing I've been reading this week:
A few great quotes can make a story. A perfect example of this is a feature on cherry-pit spitters that ran this week on the front page of the print edition of the Wall Street Journal and also got nice play on the newspaper's website. The story is a triffle, about a Michigan town that invented a cherry-pit spitting contest decades ago as a tourist attraction. Over the years, the members of one family have been top spitters.
But the beauty of this little ditty isn't what it's about, it's how well it's told. A huge part of that is in the quotes. There aren't a lot of them, but the ones that WSJ writer Douglas Belkin uses are gems. Like this one:
Then, last year, a 47-year-old delivery truck driver from the South Side of Chicago, who had never spit a competitive cherry pit in his life, appeared out of nowhere with a first-place finish and the best spit in nearly a decade.

"Every squirrel finds a nut once in a while," Mr. Krause, who came in fifth last year, said of the coup.
Read the entire piece here: A Dynasty Pits Its Spits Against and Arriviste (that's a pretty fantastic headline too)
More Good Reads for Writers
Here are the other good reads for writers I found this week:
The Promise: The Families of Sandy Hook and the Long Road to Gun Safety (The Brookings Institute) — The New York Times may have been first with ground-breaking, visually stunning online storytelling, the kind that won it a Pulitzer for "Snowfall," but it's no longer the only. The latest case in point is this feature by former White House Deputy Assistant to the President for Intergovernmental Affairs Matt Bennett on the Newtown, Conn., shooting and the gun debate. It's got a familiar magazine-style layout but includes video and takes over an entire website. Give it a look.
 Headlines that I hate: 5 ways to ensure I'll never read your blog post (Web Search Social) – If you've had it with link bait headlines, you're not the only one. Writer Carol Lynn Rivera warns against relying on "silly, trite, tired approaches to headlines that you may want to consider wiping from your repertoire" — and I agree 100%.
What makes you put down a book? (Good Reads) – I give a book 50 pages. If I'm still not sold, I move on. What about you?
Writing Tips and Industry News
ASJA Content Connections (American Society of Journalists and Authors) – Content marketing has become so big, the organization for professional freelancers has created a new two-day conference to address it. Content Connections runs Nov. 7-8, 2013, in Chicago,  and is being jointly run by ASJA and Columbia College Department of Journalism. Read more on the site.
USC announces changes to its journalism masters degree program (Inside Higher Ed) – Beginning in 2014, the University of Southern California will switch from offering a two-year master of arts in journalism to a nine-month, intensive masters of science to keep up with changes in the media business. Along with the more compressed schedule, which has students taking some classes five days a week, the school is also integrating print, broadcast and online reporting and writing curriculum. I taught at USC's Annenberg School for Communication and Journalism as an adjunct for a semester about a decade ago, and they were just starting to weave web reporting into the classroom. Props to j-school director Michael Parks for continuing to stay abreast of the times.
CopyPress Community launches state of freelance writing survey (CopyPressed) – The online content marketplace with more than 3,000 members is asking freelance writers of all stripes to complete this survey to gauge the state of the industry in 2013. Results will be published in September, and will be free to everyone. I did it a few days ago, and took 5 to 10 minutes to fill out.
Muck Rack – Looking for a place for an online portfolio? I've written before about Vizify. Another option is Muck Rack, a listing service for PR professionals of journalists active on Twitter and other social media. Journalists, including freelancers, can create a free, public portfolio to list your location, specialties, clips and other info. You can see my Muck Rack portfolio here: Michelle Rafter.
More on sources of free images for blog posts – Earlier this week, Ellen G. Kempler wrote a terrific guest post here on 5 places to find images for blog posts that aren't your run-of-the-mill stock photos. Kempler shared some great resources, which sparked other bloggers to write in with their own secret sources for finding outstanding images. One of them was Danielle, who shared the following: "I also subscribe to an illustration site Shutterstock, where I receive free images via email every week. I save them in an images file and, over time, acquire (a) huge selection of beautiful copyright-free photos and vector-illustrations to use whenever I wish for all sorts of themes." Danielle, thanks for sharing.