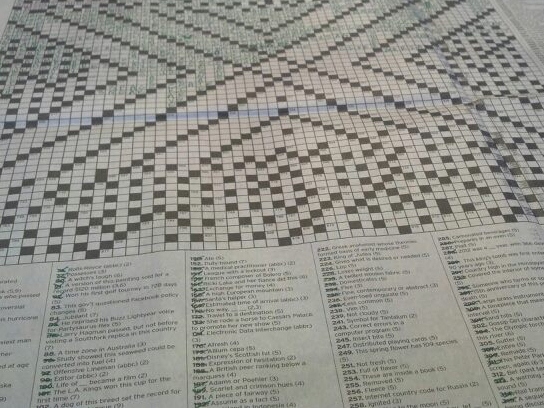 To do good writing, read good writing. Here's the good writing I've been reading this week.
I love crossword puzzles. Give me a New York Times Sunday crossword and I'm a happy camper. (I worked on the crossword in the picture – which took up an entire two-page spread and then some – for days.)
I'm not the only one. This week, journalism fellow and web developer Noah Veltman published a statistical analysis of Times' crossword puzzles to determine which words are the crosswordiest, showing up in clues with the most frequency. Just as I suspected, one of them is "Snee," which is a large knife and also the name of Captain Hook's faithful but ignorant right-hand man in "Peter Pan"; the word which ranks No. 4 on the list, with a crosswordiness score of 46.2.
You gotta love it.
Veltman's site has gotten so many hits it crashed earlier today (it's back up, I checked before sharing a link). Besides the cool factor, his experiment is a good example of data-based investigation, or computer-assisted reporting, as it was and is still called.
Nate Silver, who writes the Times' FiveThirtyEight politics blog, used the same kind of data-based investigation to famously predict the outcome of the 2012 presidential election, and became a hero to stats geeks everywhere.
But data-based investigation has been around for years. Sports writers live on stats. ProPublica, the nonprofit public interest journalism research organization, bases a lot of its work on data-driven investigations. ADP, the giant payroll processing company, publishes a national monthly employment report based on information that it aggregates from running paychecks for tens of thousands of small businesses, a report that many news organizations use to track unemployment trends.
The opportunities for doing data-driven reporting are everywhere, regardless of your beat – even in crosswords.
Here's the other good reads I discovered this week:
No insurance for you, investigative reporter (Romenesko) – The headline is funny, but the subject isn't. State Farm wouldn't renew Portland reporter Lee van der Voo's office rental insurance policy after visiting her website. "They say they can't separate the property insurance I need from any potential liability issues that could arise," she writes in a letter to the media blog. It's something other freelancers are grappling with, including yours truly. The company I bought media perils insurance from stopped offering the policy so I'm the hunt for a replacement. Insurance agents, if you're reading this, let's talk.
Nick Denton says Gawker's advertising future is affiliate links and 'commerce journalism' (paidContent) – Nobody's figured out what to call the trend of companies becoming publishers to produce quasi-feats of journalism. Denton calls it "commerce journalism." Others call it brand journalism, content marketing, or custom publishing. Whatever you call it, it's big and getting bigger — which spells opportunity for freelancers. I'll be moderating a panel on the topic at the American Society of Journalists and Authors 2013 writers conference, on Friday, April 26, at the Roosevelt Hotel in New York. I'll have more to share about the panel later, but until then, read why writers should go to the ASJA 2013 writers conference.
How the U.S. presidential inauguration was Storified (Storify) – If you're not familiar with this online information gathering and storytelling tool, this is a great explainer of how one person can use it to curate an event by collecting tweets and other social media flotsam and jetsam to tell a tale.
"I Will Ruin Him" (Chronicle of Higher Education) – An author and writing professor's scary story about being stalked by a former student, who he likens to a digital terrorist.
Secret Ingredient for Success (NYT Sunday Review) – It won't ruin anything to tell you – it's self awareness.
We're Entering the Worst Period in Modern Search History (BuzzFeed) – If you're researching something for a story, you can't just rely on Google to find what you're looking for, and this explains why.
21 Lies Writers Tell Themselves (And How They Can Stop Lying to Themselves and Become Awesome) (The Awl) – This ran in October, but I just saw it.  Lie No. 1: "Underwear is definitely pants. This has been an issue, I believe, ever since the first writer ever worked at home." It only gets better from there.
Narrow Your Focus – Or Not? (ASJA The Word) – To specialize or not to specialize, that is the question. I don't think this is on a members-only section of the ASJA website, but if it is, a thousand pardons.