To do good writing, read good writing. Here's the good writing I've been reading this week:
Bet you didn't realize that last Monday was National Punctuation Day. Yes, it's a made-up holiday, but who cares? When you work with words for a living, punctuation matters.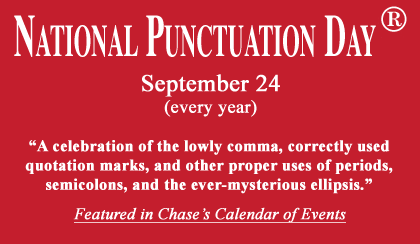 In honor of the occasion, here are my top punctuation pet peeves:
1. Including two spaces after a period. Standard operating procedure in the days of typewriters. No longer necessary. And yet, I see guest posts and first drafts of stories I edit for clients with double spacing after a period all the time. Don't do it. Here's what Writer's Digest has to say on the matter: How many spaces after a period?
 2. Using parentheses to add an aside to a sentence. This is definitely a matter of personal preference. Some writers use them. Some writers overuse them. I don't. Asides distract from a sentence's primary intent. If a thought is important enough to include in the first place, give it the attention it deserves by setting it off from the main part of a sentence – like this, with a dash. Or put it in its own sentence.
3. Putting punctuation outside quotations. Styles differ depending on the country, but if you're writing in the U.S. for U.S. publications, punctuation belongs inside quote marks.
4. Overuse of serial comas. A serial comma is a comma that appears before the final conjunction in a list; for example: "The produce department had a sale on apples, bananas, and strawberries." Whether you favor using serial commas or not comes down to personal preference, or in some cases, your editor's preference. Using serial commas can prevent confusion in lists, but many times they're not needed. Here's what Grammar Girl's Mignon Fogarty has to say on the topic: Serial Comma.
What's your punctuation pet peeve? Share it with other readers by leaving a comment.
Here are some other good reads I've come across this week:
Caught Getting Creative (Los Angeles Magazine) – More on the self-made cave-in that Jonah Lehrer's career as a journalist and author has become, by Amy Wallace, the former Los Angeles Times reporter and deputy business editor turned A-list freelancer.
Boy Wonder (Byliner) – Another good read from Wallace, this one a profile of Hollywood "it" boy Joseph Gordon-Levitt.
Beat reporting in the digital age (Journomel.com) – The tools may be changing but the goal is the same, to put the day's news into context, whether you're reporting on D.C. homicides or the 2012 presidential elections.