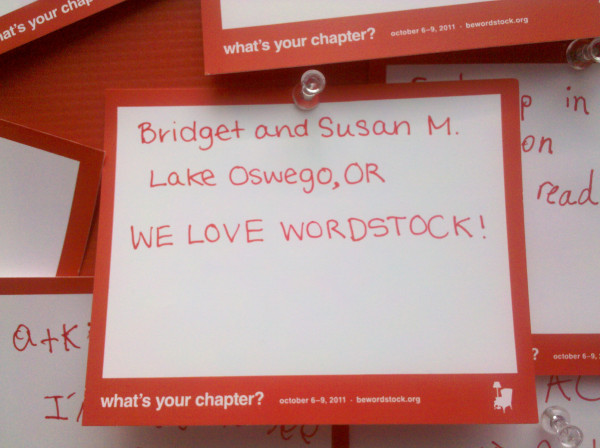 Is there anything better than spending an afternoon surrounded by books?
Not really, unless it's spending an afternoon surrounded by books and a convention center full of people who write and read them.
I spent Sunday afternoon in just that kind of book bliss, at Wordstock, Portland's annual homage to literature in all its forms.
True confessions: I missed the big names, which you can read about elsewhere, including appearances by Jennifer Egan, Ursula Le Guin and Daniel Woodrell, author of Winter's Bone and one of my new favorites. Follow this links for the Oregonian's coverage of Le Guin.
Instead, I used the time to catch up with some of Portland's own.
Here's an update on the city's literary scene direct from the floor of the Oregon Convention Center:
1. Take your pick of writers' spaces – The Writer's Dojo, a North Portland co-working space for writers founded by Jeffrey Selin, is still going strong. Writers can pay $85 a month for unlimited use or $25 to visit once a week, with discounts available. Because it's shared, the space is great for working on fiction or other long-term projects, not so much for hard-core reporting or anything that involves a lot of phone work, Selin says. If you're doing historical research, the Oregon Historical Society is free and open from 10 a.m. to 5 p.m. Tuesday through Saturday, with reference librarians on call to provide whatever assistance you need. Other writing spaces: The Writer's Attic (see more about The Attic Institute below); the Sterling Room for Writers at the Multnomah County Central Library; and the Oregon Writer's Colony's Colonyhouse , a log-cabin retreat for writers in Rockaway on the Oregon coast.
2. Reading Local Portland gets a facelift – Reading Local Portland, a website devoted to all things literary in the Rose City just got a facelift – and can I say, it looks amazing. It's easier than ever to find out about local authors, readings and other events. There are also directories of authors, editors, publishers, bookstores, libraries and more. Blogger Gabe Barber, who runs the site, says he's picked up a handful of sponsorships from area businesses, including Broadway Books, and is on the lookout for more.
3. Writing classes galore – Writers of all experience levels looking for help with fiction, nonfiction, memoir or poetry projects can choose from variety of classes, workshops and writers' groups, many of which were at Wordstock. The Attic Institute is offering more than a dozen classes during its autumn term including one-day or multi-week courses on point of view, fairy tales, poetry, getting published and novel writing; see the complete list on their website. Willamette Writers also is offering a number of workshops this fall, including "Kick Your Writing Out of the Nest" and "Kickstart Your Writing." The group has five chapters throughout Oregon, many of which host monthly meetings with guest speakers. Find out more on their website. Like to cruise? WW president and playwright Cynthia Whitcomb is hosting a 2012 writing cruise of 12, 14 or 26 days with daily classes and critique groups. Email her for a brochure: [email protected]
4. Help for your ebook design – If you're working on an ebook – and these days, who isn't? – you've got plenty of resources to draw from. At Wordstock, I talked to several Oregon-based companies that offer design, editing and distribution for authors working in digital formats, including Digital Bindery and Bookbyte Digital.
5. YA authors in abundance – Maybe it was because my 10-year-old tagged along, but there appeared to be a larger than usual representation of books for young adult (YA) and middle-school aged readers. According to a few authors I talked to, most YA books today have female protagonists and are aimed at girl readers – not great for parents like me with sons who are avid bookworms. We did find a few exceptions. One was author Lisa Nowak, there to support her auto-racing YA book, Running Wide Open. We also met Dale Basye, who's currently discussing movie rights to his Heck series (subtitled, "Where the Bad Kids Go" – check out the website for the catchy theme song). Basye shared a booth with friend and fellow YA author David Michael Slater, who describes his six-part series that starts with The Book of Nonsense as a DaVinci Code for kids. (Portland Westsiders, Book 2, The Book of Knowledge, even features Gabriel Park!)
6. Vampires still rule – During the few hours I was there Sunday, the biggest audience congregated to hear about vampires, and why six years after Twilight, stories of preternatural characters are still hot. That was also evident walking through the exhibit aisles, with many local, small press publishers offering stories in that genre.
7. Donate books to soldiers – A Vancouver, Wash., nonprofit, Books4Charities, is teaming up with Boy Scouts and local churches and companies (US Bank, Umpqua Bank, Mattress World) to collect and donate books to troops overseas and soldiers recuperating at veterans' hospitals. The group accepts new and used books and cash donations to subsidize shipping costs. Get more information on their website.