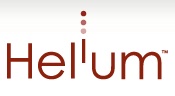 Earlier this week, I wrote about a clause in the contract that the content site Helium uses for its Content Source custom publishing business in this post. The clause stipulates that publishers who find freelancers through Helium to write or edit stories would have to pay the company the equivalent of a $10,000 finder's fee should they opt to cut Helium out and work directly with the individual in the future.
I understand why the arrangement makes sense for Helium, but questioned whether it made sense for writers. If a writer finds a publication they'd like to work for on a regular basis, they're stuck going through Helium unless the publisher is willing to pay the finder's fee.
Helium President and CEO Mark Ranalli responded to that and other issues I raised in several comments he left on the post. He later agreed to discuss the matter in greater detail in an interview, and share more about what the company is up to these days. In a nutshell, he says, "We wake up every day at Helium thinking that what we're creating is good for the writing community," he says. "We think we have writers best interests at heart."
The Changing Faces of Content Sites
I first talked to Ranalli two summers ago, for a Writer's Digest piece on the pros and cons of writing for content sites, which have also been called content farms, content mills or "the devil" by certain media industry pundits.
A lot's changed since then. In the summer of 2009, three of the top content sites – Demand Media, Associated Content and Helium – were stand-alone startups figuring out how they were going to make money. At the time, most were paying peanuts to freelancers and anyone else who passed muster and was willing and able to churn out SEO-based articles fast and cheap.
Since then, Demand Media's gone public and is still pursuing an SEO-based business model, creating content for its own branded sites such as eHow. Yahoo bought Associated Content in May 2010 to be the basis for its push into hyperlocal news.
According to Ranalli, Helium has chosen a different path. The company still retains freelancers to write keyword-based articles for low rates. However, it's also made a major push into custom publishing through its Content Source division, acting as what Ranalli calls a content engine or "online assignment desk" for publications and businesses that he says number in the thousands.
What Helium Pays Content Source Contributors
According to Ranalli, less than 10 percent of the 187,000 professional or amateur writers who've registered with and worked for Helium in the past five years have produced copy for any of Helium's Content Source partners, none of which he'll name due to client confidentiality.
The pay for Helium Content Source assignments varies. At the low end, it's $10 or $15 for a daily or weekly 200- to 250-word announcement-type post on a hyperlocal blog. Ranalli says top-tier writers can make $1,000 for a multi-source feature story for a highly specialized business-to-business publication.  "More are in the range of $50 to $100 a piece than in the thousands," he says. "That's also where the demand is for the content. A lot of platforms are building out their digital inventory" and can't afford to pay more.
Those fees jibe with rates at least one freelancer who Helium approached recently says she was offered for a rush assignment, $40 for 400 words for the website of a local CBS TV affiliate. She turned it down because the pay was too low.
In addition to freelance writers, Helium also works with freelance editors and copyeditors; Ranalli didn't share rates for that type of work, saying he wasn't familiar enough with what Helium pays to comment.
New Owner Signals New Era?
As for Helium's startup status, that's changed too. R.R. Donnelley & Sons Co. bought the company two months ago. Donnelley is a $10 billion business that made its name in book, magazine, catalog and direct mail printing bought its way into the digital media business. No doubt the deep-pocketed partner will help Helium grow. One way that's already happening: 800 Donnelley sales reps are marketing Helium's services to present and prospective customers. That can't help but have an impact for Helium, which has a total of 35 employees.
As for the $10,000 finder's fee, Ranalli says some companies that have used Helium Content Source have paid it. "We've run into publishers who've said we're going to start an engagement, use you for a certain time, and then build an inhouse team," he says. "If you think about the amount of energy companies put in to finding (talent), that fee is consistent with an agency model, where you hire a recruiter and they find people" for your business.
Helium doesn't police writers to check whether they're contacting publishers they've previously worked with through the company. Helium depends on its publishing partners to notify them if that every happens. But Ranalli isn't worried about it. Publishers come to Helium, he says, because they don't want to deal with everything that goes with hiring writers directly – making assignments, editing copy, processing 1099s etc. "They're trying to get out of managing a freelance staff. We make it simple for the company to get what they're looking for, and for Jane to get the work."
Current Freelance Opportunities
If you're interested in writing for Helium, here are some assignments the company is looking to fill that are listed in this post on its official blog:
Writers with a specialty and expertise in writing about technology and computers
Business journalists with experience covering sustainable business practices
Experienced financial writers for an ongoing bi-weekly assignment aimed at appraising merchants with the latest financial information that impacts their accounts
Recipe writers who can write original commentary and stick to weekly deadlines
Writers who can tackle computing subjects like cloud computing and business analytics
Writers who want to work for Helium Content Source have to send a cover letter, resume and two clips relevant to the assignment they're applying for to [email protected], and according to Ranalli, go through the company's usual journalist vetting process. Find out more about writing for Helium on its journalists page.