If you walked into my office right now, you'd see a pile of papers sitting on the floor to my right next to a two-drawer cabinet, another pile on a shelf to my left, and a third in an organizer on a book shelf. They're all waiting for me to have a break between deadlines so I can spend a day filing and organizing.
When your income depends on how productive you are, it's easy to think of filing and related tasks as non-essentials. But if it gets bad enough, not being organized actually can hurt your productivity.
Today I've invited freelancer writer and frugal living expert Leah Ingram to share a guest post on getting organized. Her advice on cutting out clutter by updating office equipment comes from her new book, Toss Keep Sell! The Suddenly Frugal Guide to Cleaning Out the Clutter and Cashing In, published recently by Adams Media. You can find out more about Leah on her website or her Suddenly Frugal blog.
***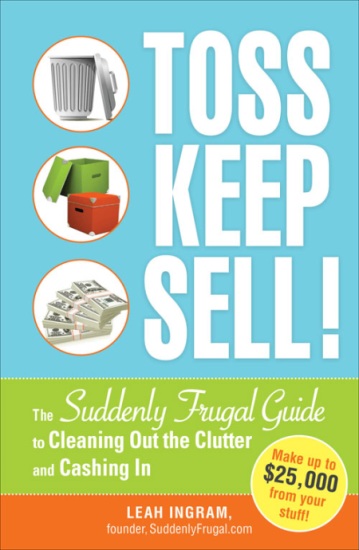 Does your home office have equipment overload? Mine used to.
If you'd popped into my home office last year, along with my Mac Book laptop, you would have found the following:
Color inkjet printer
Color inkjet printer, copier, and scanner
Black-and-white laser printer
Desktop copier
Fax machine
Sounds like I was all set from a printing, copying, and scanning perspective, right? Well, yes and no. Sure, I had all the technology I needed to make color and black-and-white copies, to scan documents and photographs, send photos, and print out e-mails and manuscripts. But there were two reasons that this set up didn't benefit me from an organizational and financial point of view; I spent:
A lot of time switching back and forth between pieces of equipment, depending on the task I needed to complete
A lot of money buying supplies for each printer, copier, fax machine, and all-in-one machine
Not only was having a lot of equipment sucking up my time, it was sucking up my money, too.
While a handful of the machines I was using came free with a past purchase of a computer, they were each expensive to maintain. Here's a cost rundown of some of them:
Color inkjet printer and printer/scanner/copier: replacement cartridges cost about $35 each—a color cartridge and a black-and-white cartridge were necessary for both—and needed to be replaced every three months
Copy machine: toner drum/cartridge cost $100 to replace. I needed to buy a new one every other year
Laser printer: laser cartridge cost $80 to replace; it ran out of toner about once a year.
Oh, and did I mention that each of these machines took different print cartridges? That meant that I couldn't stockpile any one kind of ink, printer, or toner cartridge when it was on sale (like I might groceries for my pantry) and then use it in all my machines. No, I had to buy them all separately.
Needless to say, in the course of the year, I was spending about $300 just to keep up my ink supply. Who wants to spend that kind of money, especially if this way of working isn't time efficient? And then there's the desktop clutter of having so many machines.
That's why this past year I decided to streamline my office machines into one: I got a high-efficiency desktop printer that's also a copier (color and black and white), scanner, and fax machine. I bought it on Black Friday and spent less for it than I did all of last year buying ink. Now if I need to replace ink, I only have to spend once but I still get the functionality of my four-in-one.
My plan this year is to sell those machines for extra cash, either on Craigslist or Gazelle.com If none of that works out, I'll donate them to a non-profit and take the tax write-off—assuming my accountant says that's kosher.
Copyright 2011 Leah Ingram. Reprinted with permission from Toss Keep Sell! The Suddenly Frugal Guide to Cleaning Out the Clutter and Cashing In (Adams Media, 2010).