To do great writing, read great reading. Here's some great writing I've been reading this week: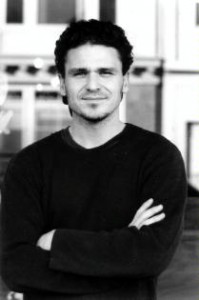 A newspaper lover's newspaper – How could you not love Dave Eggers? He comes out with a book that redefines the memoir. He edits a respected literary journal, he makes movies and on top of all that, is incredibly good looking (here's photographic proof in case you need it). He's also an unabashed newspaper lover and Panorama is proof, as this Chicago Tribune Q&A with Eggers shows. Panorama is a McSweeney's Issue No. 33, a one-time only, Sunday-edition size print newspaper, the San Francisco Panorama. It came out over Thanksgiving 2009; copies are $16 and you can get one shipped via FedEx. Or you can see images here.

Reinventing the metro daily – That's what Jonathan Weber says he's setting out to do as editor of the yet-to-pick-a-real-name Bay Area News Project, the Warren Hellman-funded nonprofit news organization. SF Weekly.com's The Snitch caught Weber's Feb. 24 presentation, which was part explainer, part job fair. Right now Weber's hiring 15 people, half of them reporters. Interested parties can read more about open positions here.
No apologies – How many blog posts have you read – or written for that matter – that open with an apology? "Dear Reader: I'm sorry it's been 3 months since my last blog post." Or "Dear Reader: I'm so busy I don't have time to write something longer." Hey, so what? We really don't care why you were away so long. We just want to know what's on your mind today. Marketing guru Seth Godin nails this one in typical Zen master fashion in a post called Why are you apologizing? The post isn't about blogging, but it could be. It's also an example of good writing that's short: not everything worth reading has to be long.
A picture's worth 1,000 words – Not everything worth reading is words either. Case in point – this chart put out by the Obama administration showing U.S. job losses from December 2007 to January 2010, roughly the length of the recession. All politics aside, look at how striking that image is – a deep V that bottoms out right around the time George Bush left office, and starts creeps back up again once Obama shows up. Sure, there's some text on the page, but really, what else do you need to know?
Great writing doesn't always equal the most page views, but that's OK – Om Malik is a respected analyst, pundit, blogger and all around smart guy who built the GigaOm network of seven blogs covering Silicon Valley and the tech industry. Malik came to his own defense recently after another blogger called him out for not having the traffic of a TechCrunch or Mashable. That's true, but it's not the point, Malik wrote. Instead of going for quantity, go for quality, value and relationships.