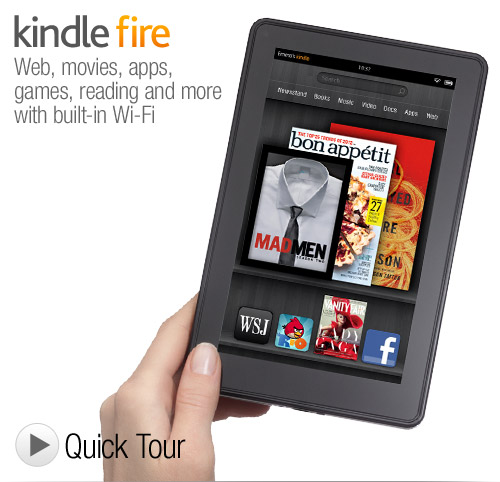 If you sign up for the 2012 WordCount Blogathon and successfully post all 31 days in May, you could win a Kindle Fire e-book reader, review of your blog, WordPress tutorial, one-on-one business or writing coaching, $100 cash, books and more.
All of these fabulous prizes come courtesy of the companies and individuals generously sponsoring this year's contest.
Prize winners will be randomly selected from names of bloggers who complete the month-long challenge. Winners will be announced at the end of the wrap-up chat on Twitter on June 1. Use #blog2012 to tune into the chat, and to follow all the bloggers in the blogathon during May.
Here are this year's Blogathon prizes and the companies and individuals offering them:
Kindle Fire e-book reader  – Amazon's color e-book reader. From Jason Lancaster at Spork Marketing, an Internet design firm specializing in search engine optimization, pay-per-click ad management, and search engine friendly design.
1 hour of WordPress tech support – Your choice of consulting, training or hacking for your WordPress website or blog. From Ron Doyle, proprietor of Waterday Media, offering media strategy, design and development for small businesses and individuals.
$175 writing review package – One-hour business writing review or coaching session, plus 100 Bucks! From Jodi Torpey, writer, trainer and consultant, and blogger at WriteBetterFaster.
$150+ Blog Sharpening Package – A written review of your blog, 1-hour phone consultation and No. 2 Pen, designed by Acme Studios. From website content expert Sara Lancaster, of No. 2 Pen.
2 hours of book or other editing – Two hours of editing your book manuscript or other editing services. From Danielle Buffardi, writer, editor, social media manager and website content management consultant at PenPoint Editorial Services.
6-month membership to Writer, Compose Yourself!  – Free use of this members-only creative writing site (regularly priced at $15/mo.) launching at the end of May. From co-founder Heather Craik.
$50 pack of DVD movies – Customized for you, or your family and kids. From Jane Boursaw, syndicated movie and TV reviewer and blogger at Reel Life With Jane.
Valhalla – Your own copy of urban fantasy novel (or if you already have it, another book) from journalist, author and blogger Jennifer Willis.
Socially Responsible Investing for Dummies – And miscellaneous Dummies swag. From author, independent writer and analyst Anne C. Logue.
2012 AP Stylebook – Latest edition of this industry-standard guide to grammar and usage. From WordCount Editorial Services (that's me!)
$25 Amazon giftcard – From WordCount Editorial Services (that's me!)
More info about sponsors
WordCount Editorial Services receives no additional remuneration – monetary or otherwise – from blogathon sponsors in exchange for their support.
If you're interested in becoming a sponsor of the 2012 Blogathon, it's not too late. Contact me at wordcountfreelance@gmail.com.