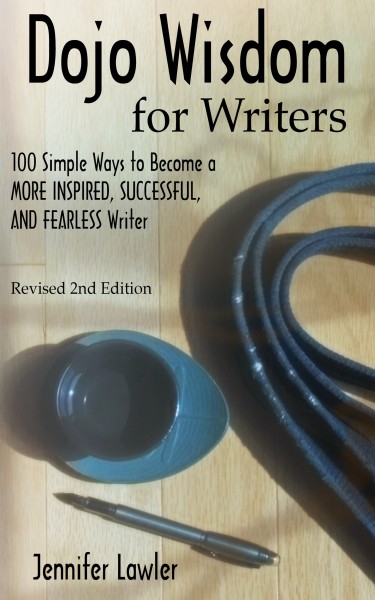 Note: The following is an excerpt from Jennifer Lawler's book, Dojo Wisdom for Writers 2nd edition. — M. Rafter
Martial artists agree that martial arts techniques should never be used to attack another person, only to defend yourself or another person who is under attack. Many martial arts masters believe that if you actually get into a fight with another person, you've failed, at some level, as a martial artist. The training a martial artist receives is intended to prevent violence, not provoke it.
A martial artist, working from this belief, creates a strategy based on the principle of nonviolence. In other words, he plans how not to fight. In any burgeoning conflict, he will walk away if he can. He will use different techniques to de-escalate the situation. He will call in the authorities. He will apologize even if he's not in the wrong if he thinks it will calm the situation. He will say, and mean, "I don't want to fight." In other words, instead of paying lip service to his belief in nonviolence and then happily wading in with fists swinging, he will make certain his actions always coincide with his beliefs.
A writer's beliefs should also guide his strategy. When I first began writing, I was able to get a couple of books about martial arts published. I also had a few other books on different subjects published. I didn't want to be known as "just" a writer who specialized in martial arts, but those were the projects that kept coming my way, so I wrote them. Finally, I realized that I was doing important work. Martial arts had saved my life. I had found it tremendously empowering. Why wouldn't I want to bring the power to other people?
Once I realized that I believed strongly and wholeheartedly in my message, and stopped selling it short, I created a strategy for bringing my ideas to people who weren't martial artists. This strategy increased my success as a writer, bringing me more into the mainstream, where I had originally wanted to go.
I often read books on how to make money as a writer and if you believe these books, it seems the only people who make money are (corporate) writers—people who produce ad copy, brochures, and the like. This is certainly work that needs to be done, and if it's work that you want to do and enjoy doing, more power to you.
But I've tried it and dislike it intensely. I don't believe it's a good use of my time and energy. Forcing myself to spend my creative energy on writing I don't believe in would be a foolish waste—and poor strategy. I'd rather have a day job at an insurance company and write books in my spare time, if I had to make the choice. However, I make a perfectly fine living doing the kind of writing I believe in. You can, too—if you create a conscious strategy that coincides with your beliefs.
EXERCISE
Spend some time answering these questions:
What are your core beliefs?
What message do you want to bring to the world as a writer?
What kind of writing appeals to you?
What do you think you could be successful doing?
Answering these questions can help you devise the right strategy for achieving writing success.
Don't suppose that just because it's harder to make a living writing novels than nonfiction that you shouldn't bother trying to write fiction. If it's that important to you, then create a strategy for writing—and selling—your novels. This is actually easier now than it used to be, given the number of self-publishing and publicity tools available now that weren't even just ten years ago.
A person who wants to write for magazines for a living will pursue a very different strategy from someone who wants to work as a writing consultant for businesses. Determine your beliefs—what's important to you—then let your strategy flow from that.
* * *
Jennifer Lawler is the author or coauthor of more than 30 nonfiction books as well as 16 romances under various pen names. Her publishing experience includes stints as a a literary agent and as an acquisitions editor. She just released the 2nd edition of Dojo Wisdom for Writers, the second book in her popular Dojo Wisdom series. Lawler offers classes in writing book proposals, planning a nonfiction book for self-publishing authors, and writing queries and synopses for novelists at www.BeYourOwnBookDoctor.com (under Classes).