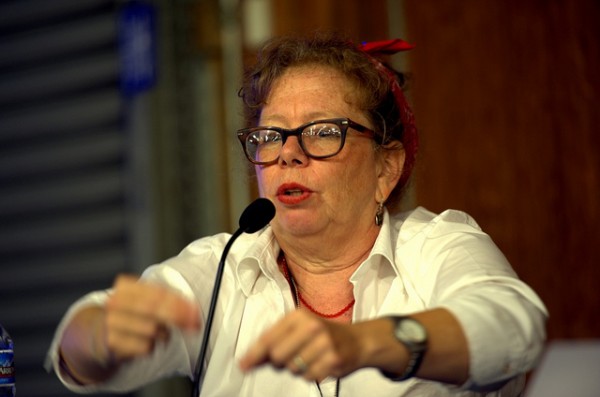 To do good writing, read good writing. Here's the good writing I've been reading this week:
Lynda Barry will make you believe in yourself (New York Times) – Behold, a perfectly executed profile of the funny, charming and very down to earth Lynda Barry, cartoonist, wit, and now writing instructor. If you ever assumed a well-known cartoonist whose work has appeared all over the place would be stinking rich, you won't after reading this. As markets for her comics have gone away, Barry has reinvented herself (like a lot of other people in middle age), working as a creative writing instructor. Apart from serving as a great example of the profile genre, this piece shares details of the writing workshops Barry now holds around the country, many attended by non-writers. Dan Kois closes with an anecdote from Barry that other writers should recognize, on the feeling of not being good enough. He writes:
Do Writers, with a capital W, look down on her students? "Absolutely. I have a real chip on my shoulder about that — the idea that some things aren't art. It's from growing up poor. You run into that your whole life — people of my background and education can't participate.

"Why does it matter?" she asked. "It's like me saying, 'I'm beautiful.' Compared to other women, I'm not. But who does it hurt for me to say so?"
Don't get fooled again: Best practices for online verification (Poynter's News University) – Regret the Error columnist Craig Silverman leads a webinar on verifying information found online on Wednesday, Feb. 21, at 2 p.m. ET on News University, Poynter's online journalism training program. According to the session's description, Silverman will explain how to "spot an online fake, track down the origins of an image or video, and determine the authenticity of a piece of information spreading on social media." Cost is $29.95, or $9.95 for members of the American Copy Editors Association. An archived replay of the session will be available after the fact.
Led by celebrity titles, magazine newsstand sales slide (New York Times) – The second half of 2012 wasn't good for celebrity and women's magazines, which saw newsstand sales dip anywhere from 12.2 percent (People) to 19.1 percent (Life & Style Weekly), according to data fromthe Alliance for Audited Media. Single copy sales also were down for Cosmopolitan (18.5 percent) and Glamour (14.5 percent). If you're still holding out hope for breaking into big-time consumer or women's magazines, this is as good a reason as any to rethink your freelance business strategy.
How journalists can create better explainers (Poynter) – Context is important. Some stories are nothing but context, in that they explain some aspect of a subject or event in more detail. In news circles these types of stories are called explainers. In newspapers or magazines, explainers can run as sidebars or companion pieces to the main story. Online, an explainer might be a short story you'd see if you click on a hypertext word or phrase to get more information. This Poynter piece shares advice on writing explainers from journalists at Slate, PlanetMoney and PandoDaily, a tech news site. One of my favorite explainers in recent years is This American Life's "The Giant Pool of Money," an audio documentary explaining the financial crisis that led to the Great Recession.
2013 Puddly Awards (Powells.com) – Each year, Portland's beloved indie bookstore asks readers which books they liked best. For 2012, they picked Gone Girl for best fiction book, and Wild for best nonfiction. Follow the link to see all 50 favorites.
Tax deductible expenses for freelancers (Freelance Taxation.com) – It's that time again, time to start sifting through receipts, payment notifications and publication subscriptions to get ready to do your income taxes. Here's something that could help: a list of expenses that are typically deductible for freelancers.
[Flickr photo by Guillaume Paumier]