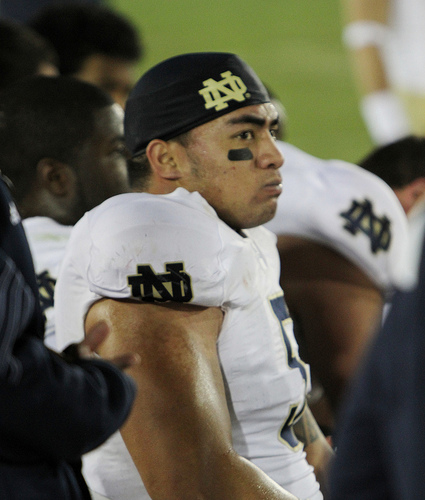 To do good writing, read good writing. Here's the good writing I've been reading this week.
It hasn't been a good week for the news business. Deadspin reveals how the country's top sports news outlets got so caught up in a tragic love story they overlooked the fact that one of the parties involved didn't exist. The Atlantic published, and then pulled, an advertorial written by the Church of Scientology after readers protested. A Time story on the U.K.'s elite universities had so many facts wrong the magazine had to run a 500-plus word correction.
I'm not one to dwell on the shortcomings of others. Over the years, I've made plenty of mistakes, big and little. But every so often it's good to look at what the other guy did wrong, if only to save ourselves from doing the same.
Here's more about this week's mess ups:
Manti Te'o and the girlfriend hoax – Deadspin, Gawker Media's sports blog, reported this week that the star Notre Dame linebacker's girlfriend, who he claims to have known only over the phone and online and who he'd said died of cancer last fall, never existed. ND and Te'o have publicly stated that the football player was duped, but news organizations are continuing to investigate, the better to determine who knew what when.
Too bad none of them thought of doing that last fall, after Te'o first started sharing that his grandmother and Internet girlfriend died on the same day. SB Nation ran a piece listing all of the media, including many national news outlets, that wrote about Te'o and his GF without looking up anything about her. No. 1 on the list: "Us." Deadspin's EIC Tommy Craggs did a Q&A with Poynter, the journalism training site and media watchdog, explaining how the story came together.
BTW, here's the story I wrote for MSN Money, on catfishing' and the dangers of online relationships.
The Atlantic's Scientology sponsored content brouhaha – On Jan. 14, the magazine published a "sponsored content" piece for the Church of Scientology lauding the great things that church had done in 2012, an advertorial no doubt timed to appear around the publication date of a new book that investigates the church by New Yorker staff writer Lawrence Wright.
The Atlantic pulled the piece within 12 hours – but Poynter preserved a copy that you can see here – after readers called foul. One of the reasons: the church chose to allow comments on the sponsored piece, and Atlantic readers objected when it appeared that the magazine was using different guidelines for monitoring those comments than what's used for monitoring comments on regular stories. The magazine apologized, saying in part: "We screwed up. It shouldn't have taken a wave of constructive criticism — but it has — to alert us that we've made a mistake, possibly several mistakes."
Poynter says in addition to figuring out what commenting policies should be, the incident raises a number of other questions about sponsored content, which is becoming more and more prevelant as publications look for new sources of revenue. Among them: how transparent a news organization should be with readers about the way sponsored content is handled? Read Poynter's post on the matter here.
Britain's Class Divide: Can Oxford Solve Its Privilege Problem (Time Magazine) – The number of clarifications, amendments and factual corrections included in a 548-word correction that appears at the end of this feature story on the U.K.'s top universities is breathtaking. One example: "The article erred in stating that Oxford and Cambridge 'missed government admission targets' for students from lower socioeconomic backgrounds. Rather, the universities scored below 'benchmarks' for admission of students from lower socioeconomic backgrounds which are calculated by the Higher Education Statistics Agency, a non-governmental body."
It makes you wonder who read the piece before it was published: an editor? a fact checker? If an editor read it, did they have enough knowledge of the subject matter to spot some of the errors or ask the right questions? If publications aren't fact checking as thorougly as they used to – and it appears that more aren't – it's a big wake up call to freelancers to double and triple check your work before turning it in.
[Flickr photo by Neon Tommy]