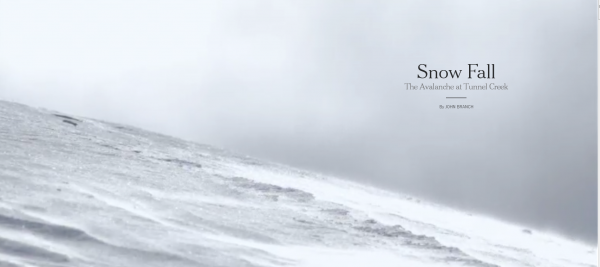 Prepare to be awed.
This week, the New York Times published"Snow Fall: The Avalanche at Tunnel Creek, a story about a deadly avalanche in February 2012 near Washington state's Stevens Pass ski resort that comes the closest to anything I've seen to making good on the promise of digital storytelling.
To call it a story, though, doesn't do it justice. The starting point is the printed word, a detailed account of what happened before, during and after the avalanche, which killed three expert skiers who'd ventured out of bounds to the Tunnel Creek drainage area outside the groomed ski hill.
But the story is so much more than the words. Click on a link to the piece and you're transported to a photograph of mountain snow, a photograph that covers the entire width of my 21-inch HD computer screen (see above). Wait a second, and the snow in the photo starts to move. The opening lines of text sit at the bottom of the screen. Scroll down and they jump up and over the photo. Continue to read through the story's five sections and you'll see 3-D aerial views of the area, an animated re-creation of the avalanche's course as it sped up to 65 miles an hour racing down the mountain, plus video interviews, maps and more.
"That's about the coolest web graphics I've seen," one reader commented onOff Piste, one of many blogs buzzing about the piece this week. I have to agree.
Do yourself a favor and carve time out of your day to experience this. I predict you'll be hearing more about it come awards season.
More Good Reads for Writers
Other good reads for writers I've come across this week:
The Basement (Caleb.me) – Another great yarn and another great piece of interactive storytelling, albeit on a dramatically smaller scale. When software developer Caleb Sasser discovered that basement of the downtown Portland building where he works serves as a major Internet hub he decided to check it out – and found a room that was frozen in time. The subterranean space that the Internet's bit and bytes zip through has walls plastered over with newspaper pages from the 20s, handwritten notes and other relics of the era. But rather than just tell us about it he shows us, in a series of photographs that mirror his own discovery journey. It's a visual treat with a very satisfying ending. Here's OregonLive.com's version of Sasser's story: The Basement: Subterranean visit to Pittock building yields mementos of bygone age.
Reporter's Confession: I Screwed Up While Covering a Mass Murder (Idea Peepshow) – In the past week, much has been written about how much bad information news organizations helped spread in the hours immediately after the Newtown, Conn., shooting. It's not the first time reporters rushing to cover a tragedy have gotten things wrong, and the latest reminder of the importance of verifying facts before reporting them. Bob Ingrassia was young, inexperienced and naive when as a Dallas Morning News reporter he was asked to help cover the aftermath of the Oklahoma City bombing that killed 168 people. He relied on someone who turned out to be a very unreliable source for information about bomber Timothy McVeigh, he explains in this post. Back in 1995, there was no Twitter to blame, just fear of getting beat on a story and ignoring "alarm bells" telling him something wasn't right, he says.
The Best Reporting on Guns in America (ProPublica) – A round up of articles on all aspects of the debate, from gun rights to trafficking to regulation.
The 10 Best Books of 2012 (New York Times) – For the week's vacation you're taking between Christmas and New Year's. Because you are taking a vacation, right?
Those Crazy Indemnity Forms We All Sign (New York Times) – And you thought you were the only one who hated them.
Your Twitter Archive (Twitter blog) – It is now possible to look up everything you've ever tweeted. Scary.