To do good writing, read good writing. Here's the good writing I've been reading this week:
Anniversary stories.
If you've ever worked in a newsroom, you've probably had an editor wander over to your desk or shoot you an email saying, "It's been a year since XYZ, we want you to update readers on what's happened since then."
Oy.
But anniversary stories don't have to be predictable or dull. In fact, they can be insightful, dramatic and moving.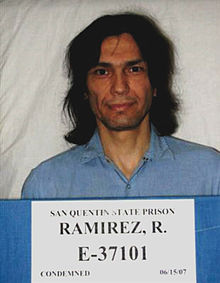 Orange County Register reporter Keith Sharon does all of that in an article about the 35th anniversary of the capture of infamous 'Night Stalker' killer, Richard Ramirez. Instead of focusing on the killer or regurgitating the gory details, Sharon shares what happened to one victim who got away. The story, After 3 bullets in the head, he still can't escape the 'Night Stalker, looks at how Billy Carns' life changed forever because on Aug. 24, 1985, he and his girlfriend didn't lock the window in their Mission Viejo apartment before going to bed.
Sharon went to Bismark, N.D., to interview Carns, who sustained a brain injury in the attack and afterward moved back to his home town to be closer to his mother. Notice the details in the story – how the shots Ramirez fired went through Carns' body, how it affected his ability to think, talk and work, and what his mother prays for every night. Notice how the story is organized, switching between past and present, Carns and the hunt for the Night Stalker. Read it all the way through to the concluding paragraphs, which are about as good as they get.
Anniversary stories can be an occasion to reflect on how a person has changed as time has passed. Or they can be about how a country has changed, like the stories written about the effects of 9/11. Or in the case of the one-year anniversary of Steve Job's death, how a company has changed.
 Here are other good reads for writers I've come across this week:
Tustin youth football charges go well beyond bounties (OC Register) – Well before the news broke that New Orleans Saints coaches offered bounties to players for hard hits and other egregious on-field tactics, coaches of a youth football team in Tustin, Calif., were allegedly doing the same time. The Register has been on top of the story, which has since been picked up by USA Today and other national news outlets. It's crazy, it's riveting reading, and it's good old-fashioned beat reporting at its finest.
Freelancing: A choice not a punishment (Tam Harbert) – Freelancers are a happy, satisfied, well-compensated bunch, according to Harbert's interpretation of the 2012 Freelance Industry Report. Let's hope such findings can put to rest once and for all the common perception that writers freelance because they can't find other work.
2012 Editorial Salary Survey (Folio) – Further proof freelancing is a better way to go. According to Folio, average salary for top editors or editorial directors at consumer magazines this year is $89,000, and $94,800 for top editors at business-to-business publications. Pay varies somewhat according to region and revenue size. But still. It means I make more freelancing from the comfort of my home office 3,000 miles away from Madison Ave. than most New York City editors. Can't beat that.
Should I work for free? – Handy flowchart created by one Jessica Hische to help you decide whether a project is worth putting time into without expecting to get a cent out of it. This has been floating around the interwebs since 2011, but I just discovered it and thought it was worth sharing. Caution – the version I linked to is NSFW.
'Who are you banging?' and other questions journalists can't ask One Direction (Gawker) – When the publicist for this uber-hot U.K. boy band shares a list of 12 things that are off-topic for an interview, a Canadian radio DJ gets sweet revenge. Click on the link to hear DJ Scott Rush's on-air take on the incident, his entire conversation with the publicist and the non-interview that follows. What would you have done in that situation?