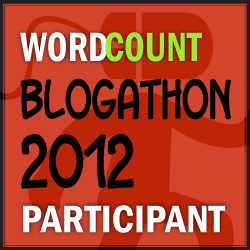 Flowers are blooming, baseball's here and my taxes are almost done. It can only mean one thing.
The 2012 WordCount Blogathon is coming.
I'm getting ready to open registration for the Blogathon, the community challenge to blog every day in the month of May. If you have no idea what I'm talking about, read this Blogathon FAQ.
Last year was a big one for the Blogathon. More than 200 professional writers and other bloggers participated. I added a Google Group that became a central gathering place for people to share links to their posts, ask questions and kvetch about how much they were loving – or by the very end, hating – the experience. I also started a weekly Blogathon newsletter to keep everyone apprised of when guest post exchanges and other events were happening.
To celebrate hitting our 5th anniversary, I'm thinking of adding some new features to this year's event, but want to gauge people's interest. For example: I've started using Pinterest, and want to know if I should incorporate Pinterest boards into this year's Blogathon.
If you've participated in the blogathon before or are thinking about it for this year, what features would you like to see included?
Please help me out by taking this simple poll.
Then stay tuned. Registration for the Blogathon opens next week. And if you're talking about the Blogathon on Twitter, use the hashtag #blog2012.