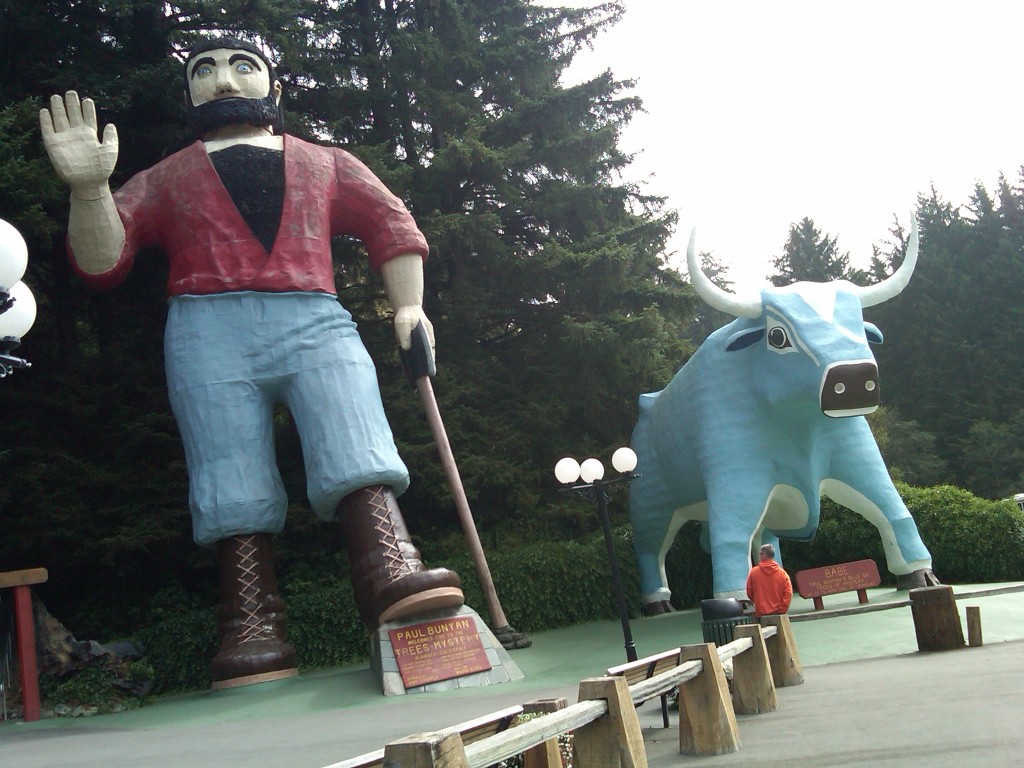 To do great writing, read great writing. Here's the great writing I've been doing this week:
Today's theme – think big. The inspiration is this photo, which my husband took in northern California on a road trip to deliver our son to his freshman year at college.
Paul Bunyan may be a fictional character, but he can still teach us a thing or two about out-sized ambition and aiming high.
Here are some 'think big' pieces I read this week:
The Shame of College Sports (The Atlantic) – In an NPR column, sportswriter Frank DeFord called this the best sports story ever. Is it? Read and see for youreslf.
$2 a Word? Chump Change! With Byliner and Atavist, Hungry Freelance Writers Seek Out Alternatives to Magazine Work (New York Observer) – What some mid-list writers are doing to take back control of their work, in a big way.
Google working on Flipboard competitor called 'Propeller' (VentureBeat) – Why include this item? Because great companies – like great people – don't stop innovating and thinking big, even after they've become wildly successful.
From Insurance Salesman to Bestselling Ebook Author (SecondAct) – John Locke wasn't afraid to take a big risk, and it paid off in a big way. The former insurance  salesman always wanted to write, but rather than pitch his first thriller to an agent opted to self publish. The rest of the story is ebook history. Locke has sold 1.5 million copies of 11 books, including 10 thrillers and a how-to on ebook publishing, making him one of Amazon's bestselling ebook authors.