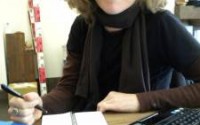 More Recent Articles
Compiling a book largely comprised of photos takes careful planning and budgeting, and concise writing, as freelancer and author Paul Vachon explains.
Keep Reading »
Sign up today for this free community blogging challenge to post every day in June. Read this to find out more.
Keep Reading »
A Canadian writer explains how the event jump started his freelance career in this first in a weekly series of Blogathon success stories.
Keep Reading »
The Best of
Word

Count
In case you missed them the first time around, here are WordCount's most popular posts on freelance writing from the past month: Writing basics: How to write a lead 8 online search tips from research ninja Marshall Kirkpatrick  5 reasons you're not meeting your freelance income goals The hard work of writing How to avoid ...
Keep Reading »
A deadly avalanche, a serial killer revisited, riding the Tour de France and other best reads for writers from 2012.
Keep Reading »
Best posts of the past 12 months on writing and blogging basics, running a freelance writing business, tech tools for writers and more.
Keep Reading »
Writing advice from Barbara Kingsolver, tips for spotting trends, working through Superstorm Sandy, and more.
Keep Reading »