Browse:
Home
/
My stories

As freelance editor of this career reinvention series, I'm wrangling bloggers, editing and using social media to promote our work.
In case you missed them the first time, here are posts that attracted the most attention this month.
If your New Year's resolution is to take on a new writing-related venture, here's some inspiration to get you started.
Freelance writer Michelle V. Rafter picks the top 10 stories she wrote in 2010, and explains a little about what make each one special.
These days when I'm not blogging here, I'm blogging for SecondAct.com, the online magazine for people over 40 launched by Entrepreneur Media, publisher of Entrepreneur, earlier this year. I get to blog about a lot of things at SecondAct. But mostly I write about work – finding it, doing better at it, getting more meaning […]
When I came back to a full-time freelancing three years ago, I started a blog. The 500 posts I've done since then have literally changed my work life.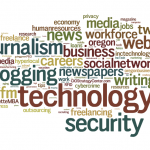 The story of my freelance writing business, told through a picture of my Delicious bookmarks created in Wordle.com. Taken June 30, 2010.
This is a pointer to a post I wrote on SecondAct.com about RetiredBrains.com creator Art Koff, an ex-ad man who knows a good domain name when he sees one.

If you've sworn off online communities like Facebook because all people do there is goof off, join LinkedIn, the site that puts the work in social network.
Sometimes older really is wiser – especially if you make an effort to keep up with times too.