Working for free and pulling all nighters were two stupid things I did during school that paid off later in my career.

This post is part of a BlogHer series that has bloggers from different walks of life sharing the career advice they'd give their younger selves.

A ghostwriting author, teacher and conference organizer explains why it's a great time to get into the business, common mistakes and what typical fees are.
I don't regret my decision to be a writer and mom, but I've had to work hard to do both. Here's how.
The secret to achieving work/life balance as a freelance writer isn't that secret. It takes equal amounts of planning, goal setting, self discipline, self confidence and your own personal "cheer team." That's the advice that life coach Marla Beck shared during the yesterday's WordCount Last Wednesday live chat. Beck specializes in working with writers, and […]
Join us for the #wclw chat tomorrow, March 30 at 10 am PST, to hear life coach Marla Beck discuss how writers can find success & maintain work/life balance.
Is work messing with your life? Join the next #wclw chat when life coach Marla Beck discusses how writers can achieve work/life balance. 3/30 at 10 a.m. PST.
Hard as it is to get away when you run your own business, it's important to take time off to recharge mentally and physically. Here are some reasons why.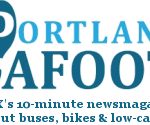 What does it take to run a one-person local news website? Find out in this interview with the journalist founder of Portland's magazine for the "low-car life."
Want to improve your writing skills? Here is a list of websites offering free or fee-based online journalism training for freelancers and other writers.