My response to the popular FB challenge to list your favorite books.
A complete transcript of the July 31 #wclw chat, about books on writing, and books that inspire you to be better writers.

Think about what books inspire you, then join today's #wclw writer chat to talk about them. See you there!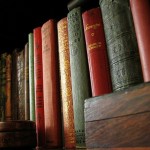 The next WordCount writer chat is Wednesday, July 31, at 10 am PT/1 pm ET. Our subject: best books on writing, and that inspire good writing.

A long-time author and book development editor explains the importance of creating a book proposal — even if you're self-publishing. Read more.

Searching for something good to read? I've got suggestions. Plus this week's media industry news for writers.

Compiling a book largely comprised of photos takes careful planning and budgeting, and concise writing, as freelancer and author Paul Vachon explains.

Freelancer and author Mark Pendergrast explains his approach to revising his book, For God, Country & Coca-Cola, for the second time.

This WordCount guest post from author, blogger and writing coach Nina Amir explains how she turned an idea into a blog, and a blog into an Amazon bestseller.

In this guest post, freelancer and author Erin Flynn Jay shares secrets she used to write her book, Mastering the Mommy Track, without sacrificing other work.